Click here to read the Thai version of this article.
After having taken up the clock app by a storm during the pandemic with the apocalyptic anthem As the World Caves In, Matt Maltese caught himself in a new found position in his career. He has since been releasing new projects, co-writing music with rising indie artists, and touring the world nonstop.
The prince of soft rock (as we like to call him at Gadhouse) recently released his latest project, 4th studio album Driving Just To Drive, and has also just finished his first ever Asia & Australia tour, with his May 26th show being his second time performing in Thailand. Only less than a year apart since his appearance at the Maho Rasop Festival back in November 2022!
This time around, we had the pleasure of peeking into the backstage of his Bangkok show where we talked about his inspiration for his latest album, his songwriting process and, of course, his love for fruits. Now let's get to know more about Matt Maltese just to get to know more about Matt Maltese!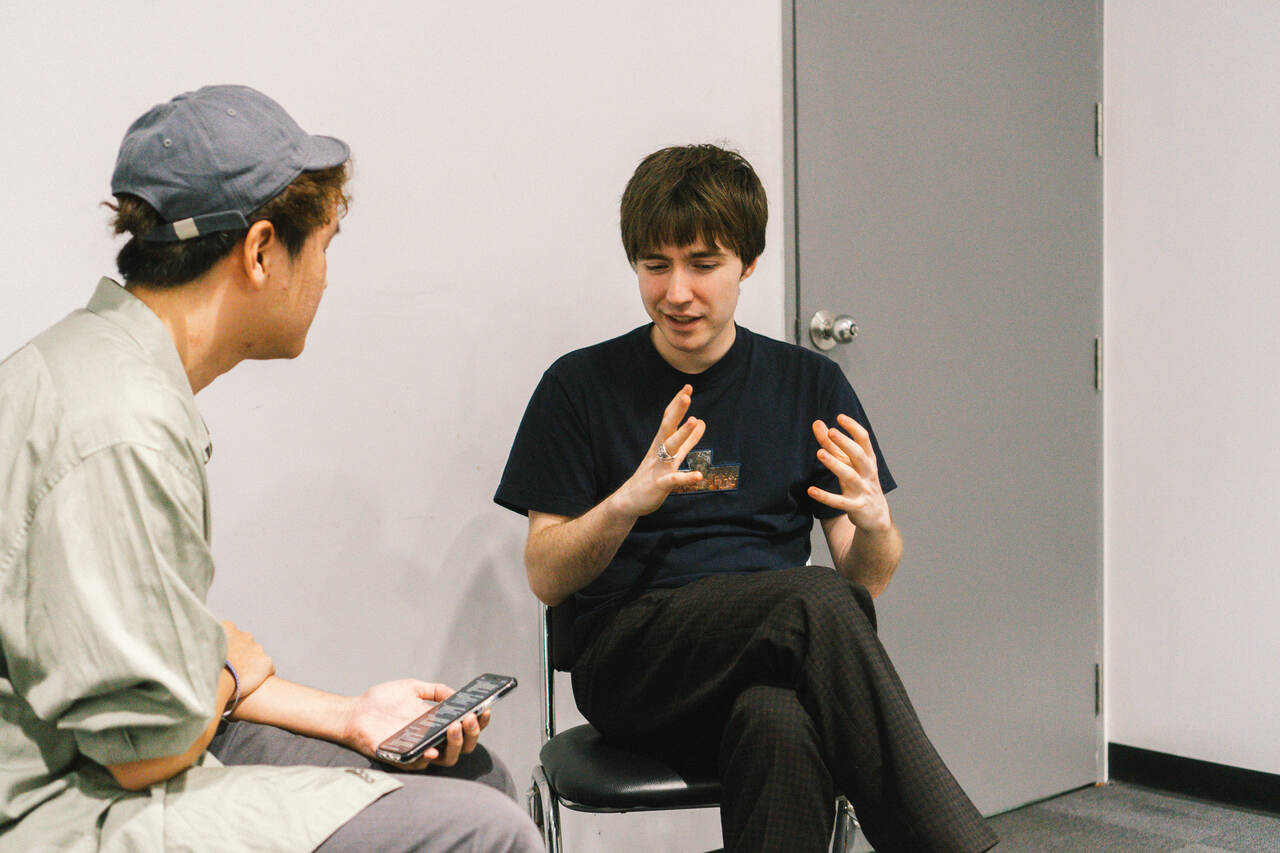 Welcome to the Gadhouse, baby!
We entered the doors of the artist's room at the back of Union Hall to the sight of Matt Maltese holding a cup of tea in his hand (you can't take the British out of the Brit, innit?).
There's something different about his second visit to Bangkok. One thing for sure is the variety of fruits that he has tried. "We were here for only 36 hours, so I'm hoping to try more fruit since I'm being here a bit longer", Matthew had told us prior, and tried more fruit he did. He went back for a second coconut smoothie and tried his first dragon fruit and papaya. "It's like tast ing coconut for the first time!"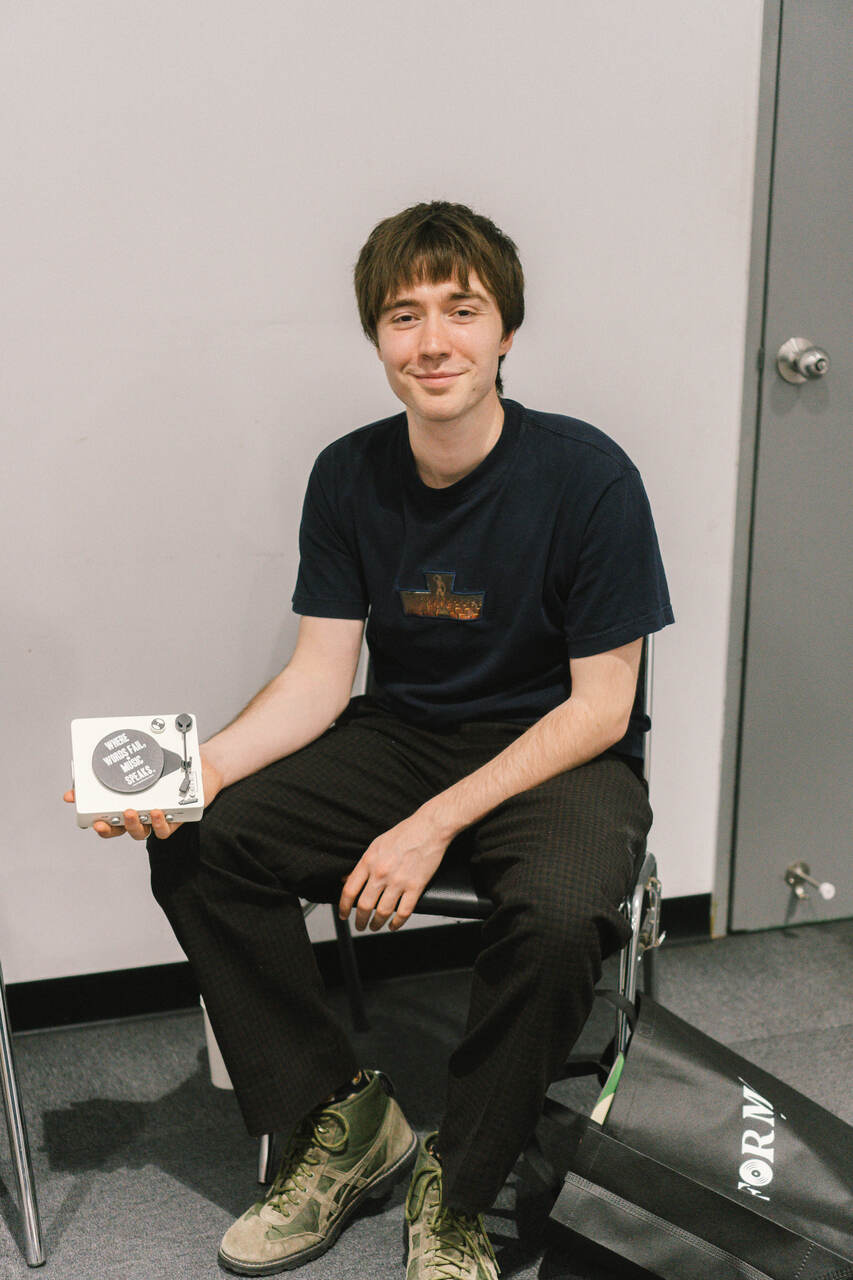 We then proceeded to exchange some thank you gifts. We presented Matt with a Brad Junior in Ivory, a music box in the shape of a mini turntable that plays The Beatles' Hey Jude. Matt revealed that he is a vinyl lover. He's also no stranger to having his music pressed onto plastic discs with the latest Driving Just To Drive vinyls being sold out upon his third show of his Asia & Australia tour. When asked if he's going to release more stuff on vinyl (different variants, unreleased songs, etc.), he said that he's always open. 
"Every tour that comes around I do think that it's nice to do something new. So maybe next year would be cool!"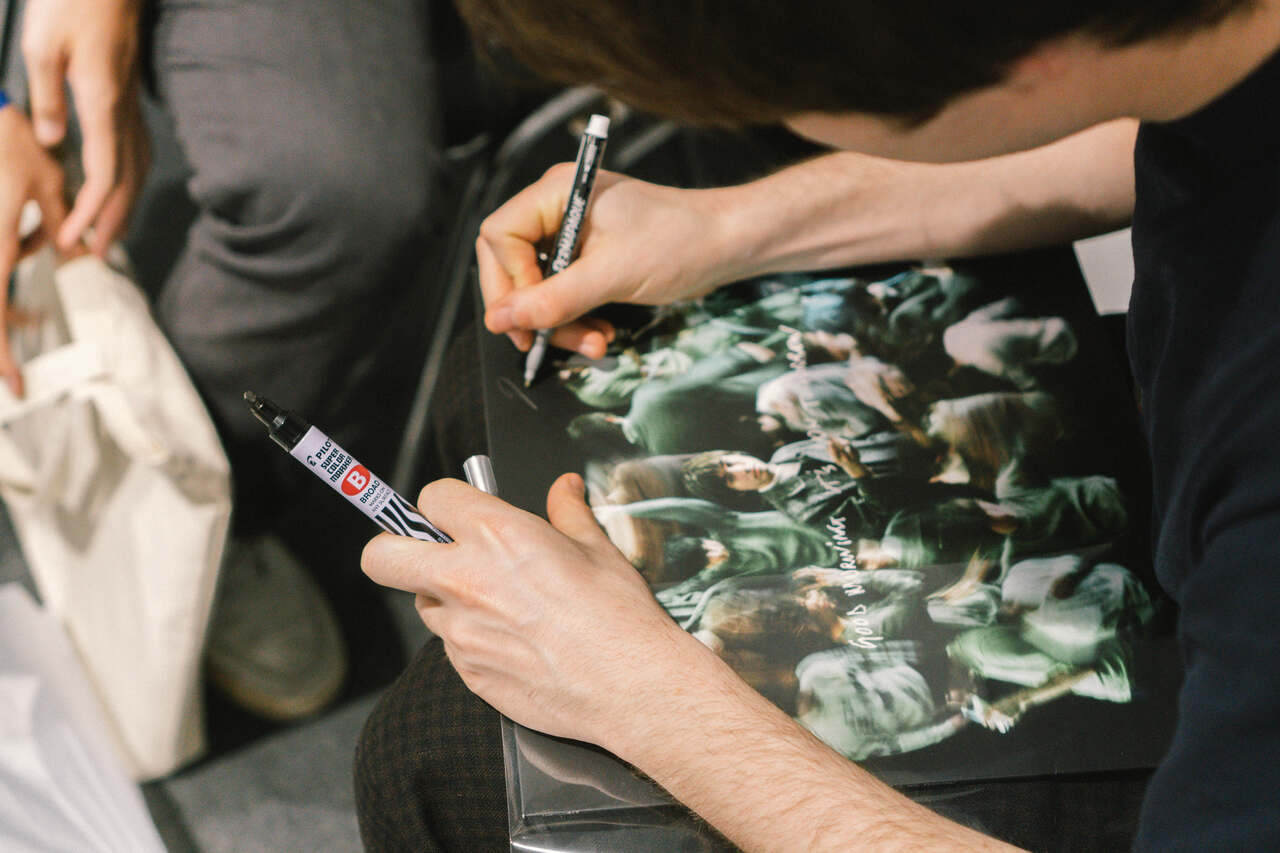 "It was very overwhelming in a good way", Matt looked back at his spot at Maho Rasop Festival which marked his first ever trip to Asia. He reminisced the surprises that came with playing the show, strolling through the festival crowd afterwards, being stopped by people who wanted to say hi. 
"Obviously you know that there are people who listen to you online [here] but it's definitely almost unnerving to know that there are people across the world who know my songs".
Going about the setlist for his first tour this far from home, Matt describes the process as a "best of" style. The setlist is a selection of songs from the beginning up until now representing a journey of his music career, including a lot of old songs that he doesn't necessarily play.
"Sometimes I can't play everyone's favorites but I try!"
Check out the full setlist here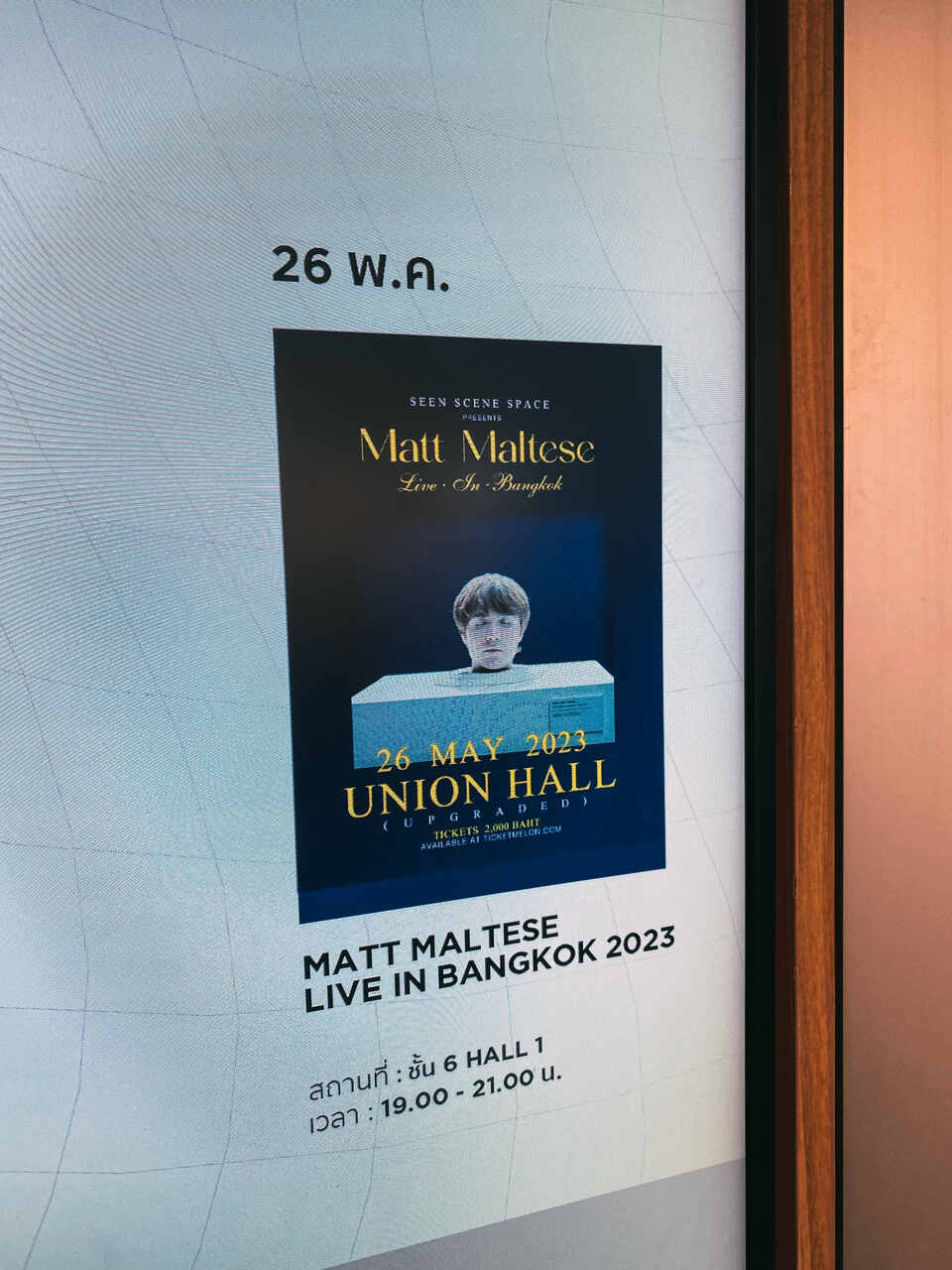 "I'm annoyingly reflective"
A month before kicking off the Asia & Australia tour, Matt released his 4th studio album Driving Just To Drive. The record, in his words, is a "collection of songs about yesterday (not tomorrow)" that were written in the winter and made in the summer. And, like magic, the record manages to precisely capture that feeling. Describing the creative process, Matt found himself in "an uber-perspective headspace", a switch from the third album which was more forward facing.
"The history of the self is interesting." The recording process, he described, saw him going back to the time of him growing up, his childhood, parents and relationships with these people. Tracks like Museum are a great example of Matthew's fascination with the past and how it shapes us into the person we are today. But of course, our yesterdays aren't always sparkles and rainbows. In Matt's words, this record perhaps serves as a reminder to "take whatever comes in a positive light."
"Even hard times can become and make you into something different that you can appreciate."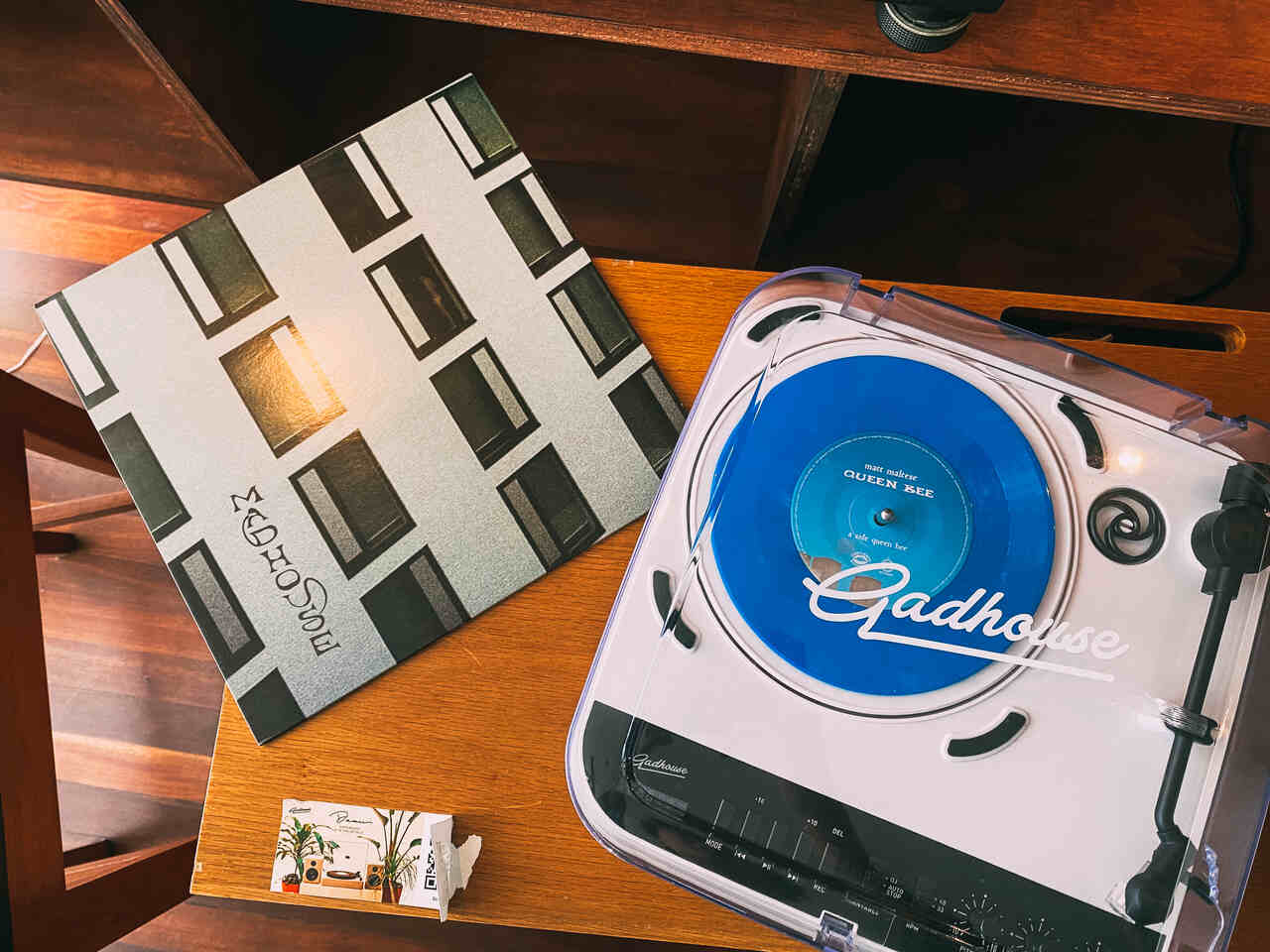 Fruits, Blinds, Enema Infestations, etc.
There's something about the way Matt writes lyrics that makes the mundane sound magical.
His songwriting uses the "show, don't tell" approach, resulting in an amalgamation of thoughts that paints a picture as much as it tells a story. His lyrics retell the minute observations of his daily life. Oftentimes they would include inanimate objects, fruits, neighbors, subjects that seem insignificant and blasé right until you realize what they represent.
"Life is a lot about trying to make the mundane magical." He believes in making the smaller things mean more as a way to appreciate life as much as possible. A self-proclaimed thinker, Matt told us that he thinks about the small things in life that he notices daily, and about how much those small things actually mean, which turns out to be a significant amount. Yet as irony would have it, this level of specificity manages to be even more relatable with his listeners.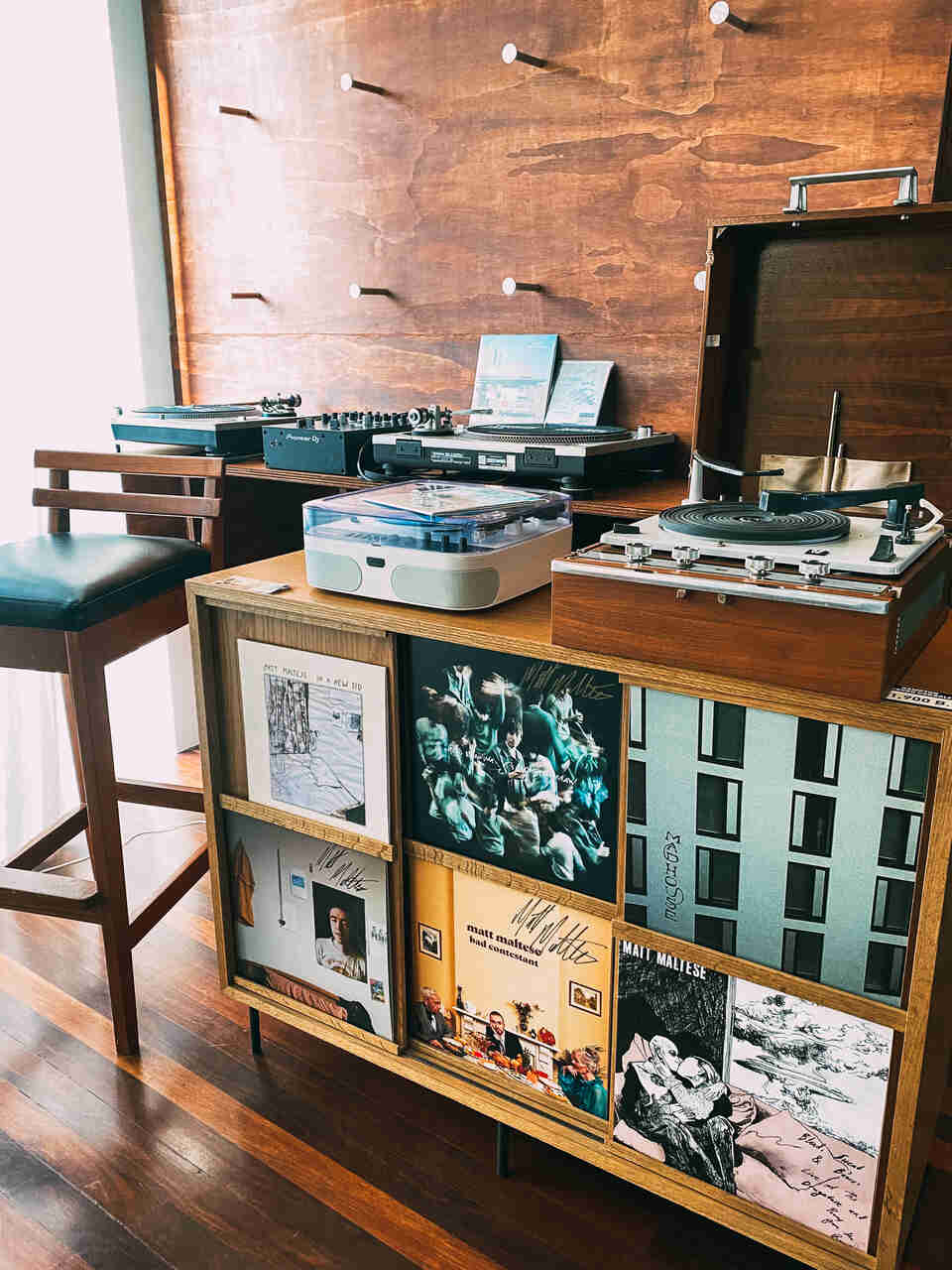 It's amazing how fans are able to relate to Matt's music despite how specific he goes about songwriting (let us know if you think about becoming a red lobster daily).
"If you try to be relatable, you really can't." When asked about this dynamic, Matt speculated that relatability comes when you're specific about your experiences. "People just relate to a story that's true", he believes that the more truthful you are with talking about your real life, the more relatable people seem to be even though it's only you who lived that life.
Perhaps pouring one's guts out with sincerity is a sign of vulnerability, and vulnerability is something that we, as human beings, can all relate to. And by singing truthfully, his songs become a safe space to be vulnerable, a space in which fans are able to individually or collectively partake in that feeling.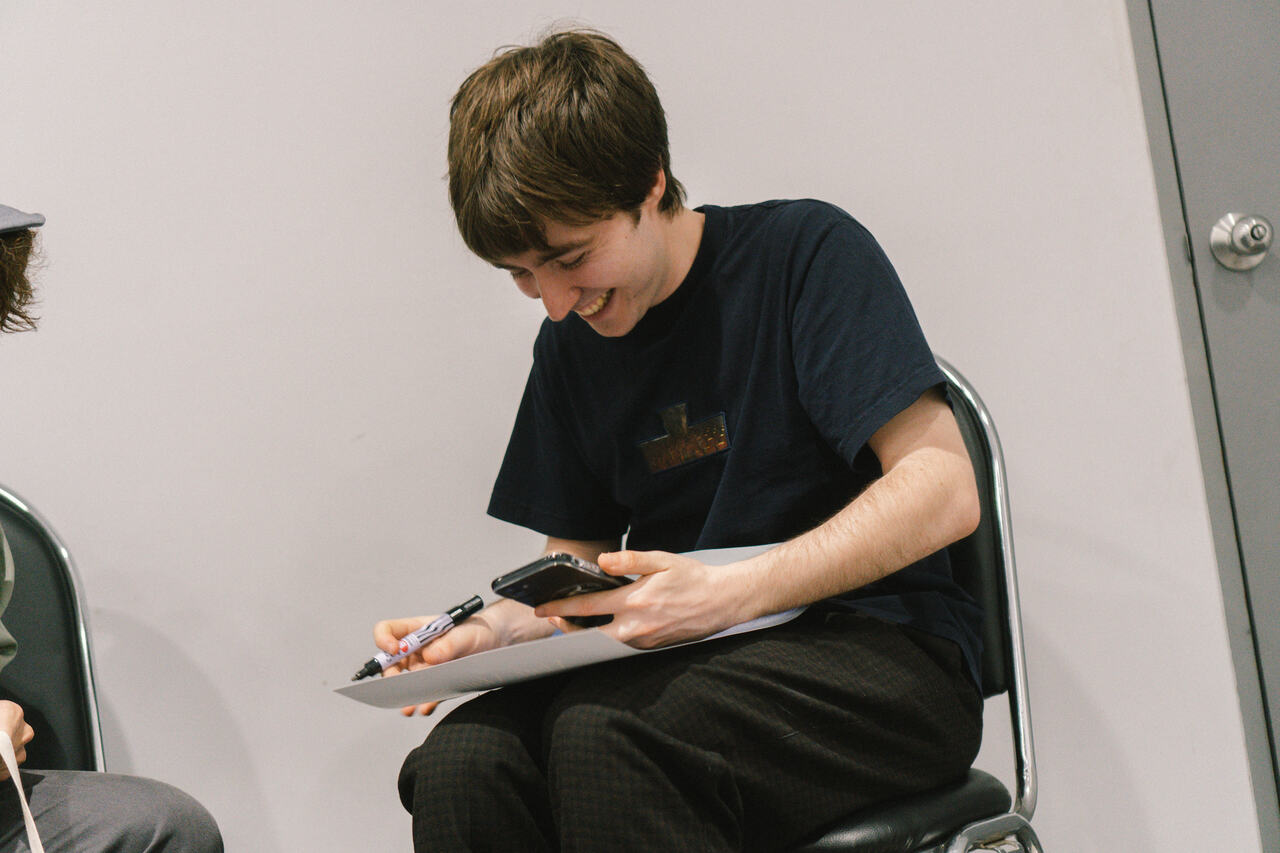 A great example of this comes in the form of Driving Just To Drive's closing track: But leaving is, a soft-ballad that presents an interesting take on love, that we don't get to choose who or when to love. 
"[Love] is really hard and great at the same time." But leaving is expresses the universal frustration and fascination that we have towards love, that "we know it's what we kinda all want" yet going about it is still a difficult feat. The track comes from a place where Matt's understanding of love is constantly evolving. Throughout our lives, we form and work through relationships, be it with friends, families, partners, and different relationships can teach us different things. But still, no one has cracked the code to a successful relationship. And perhaps it is through this missing piece of our collective puzzle that makes us connect with his body of work even more. 
"Over a hundred billion lives were lived but no one's worked it out yet."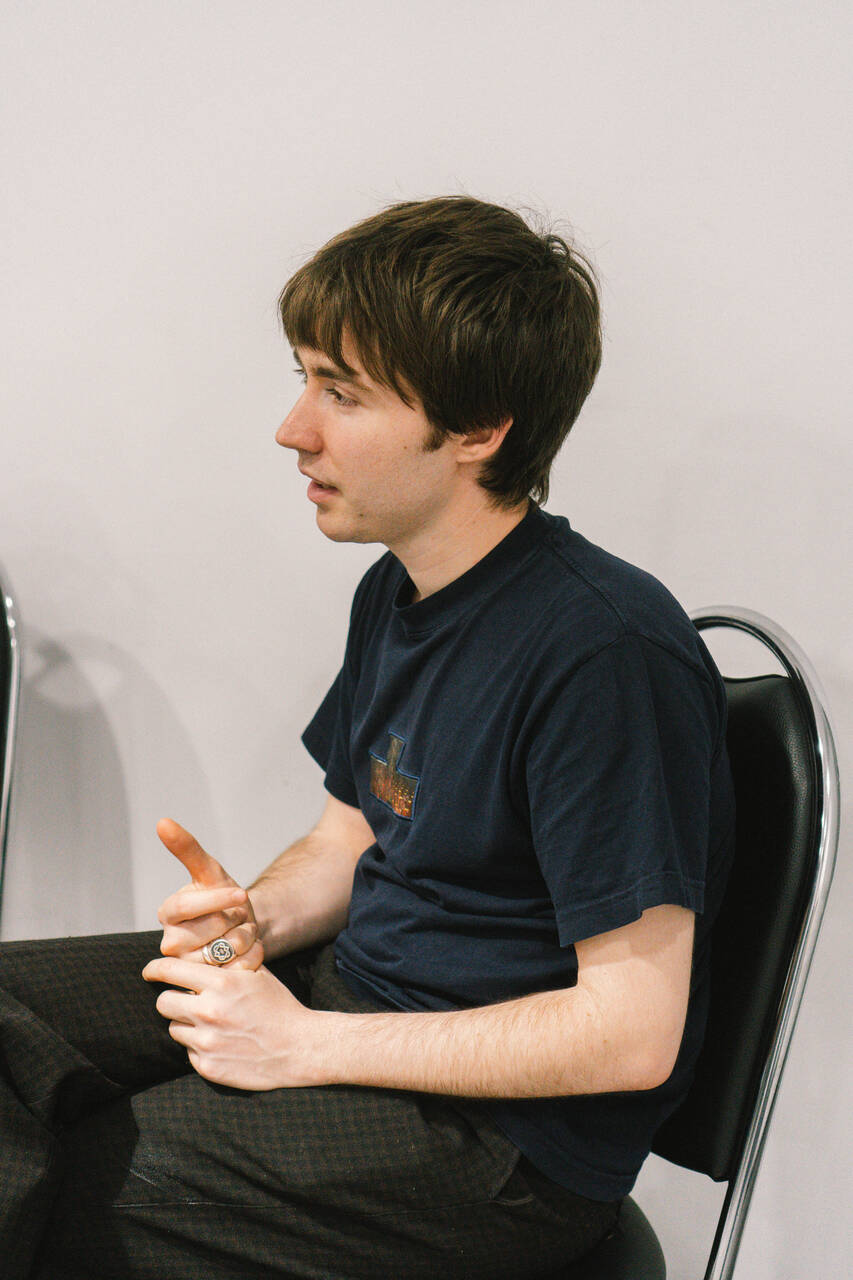 "If you're not laughing, what's the point?"
Matt's songwriting shines not just in the subject matter but also the method. There's a sense of playfulness in his writing that can turn any sad story into dark humor
"I don't know, it keeps life interesting." Although he wasn't sure where this sense of humor came from, Matt told us that he would always use humor to carry himself as a person. "There's a lot of dark things that you have to laugh at the face of, you know?"
In fact, his song Smile in the Face of the Devil sums up this Kafkaesque-yet-positive take on life completely. The track (a surprise one on the tracklist in my opinion) reassures us that, despite life feeling like a rom-com gone wrong sometimes, everything is going to be okay eventually. It beautifully serves as a reminder to just shift your upper lip and smile through whatever life throws at you. Just smile. Smiles everywhere!
(Writer's note: I'd even say that SitFotD functions as the thesis statement of Matt's discography.)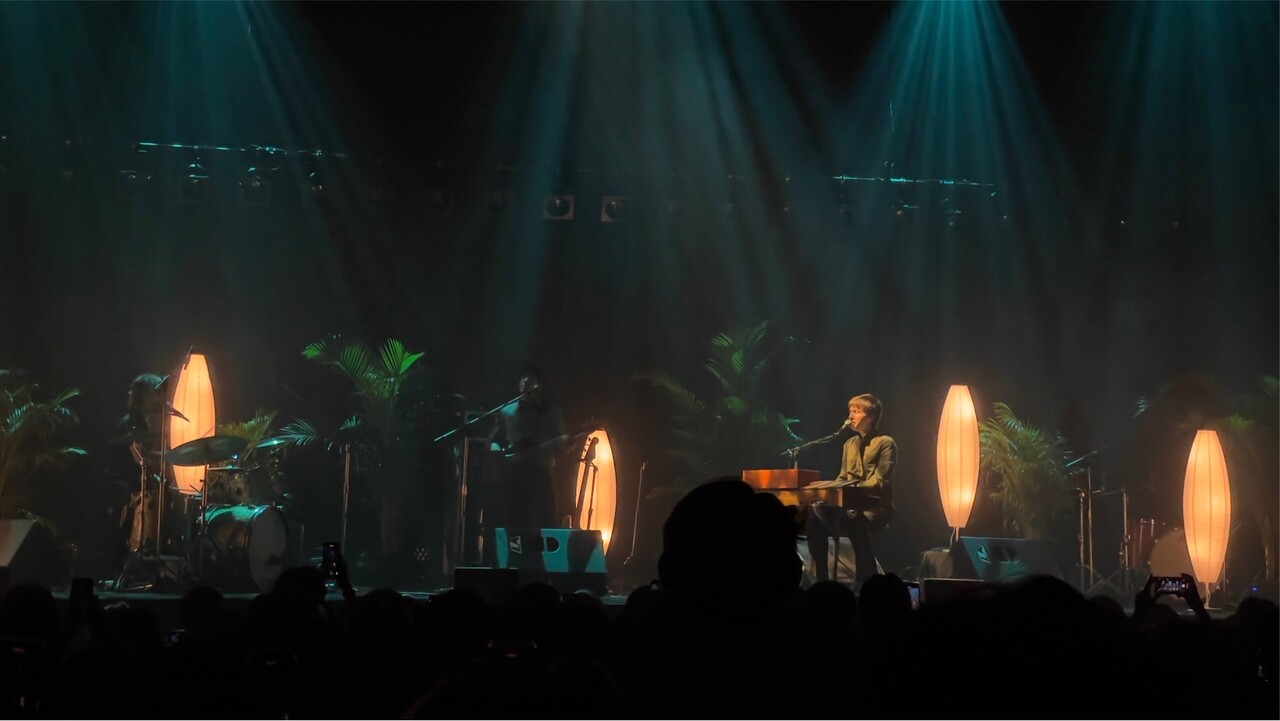 And this has been proven to be true as huge waves of smiles could be seen across the sea of fans who came to support him at his shows. Matt Maltese has managed to capture the hearts of listeners all around the world thanks to his vulnerability, sincerity and just his overall wholesomeness, and we hope to see him return to Bangkok for a third time.
Bangkok loves you Matt!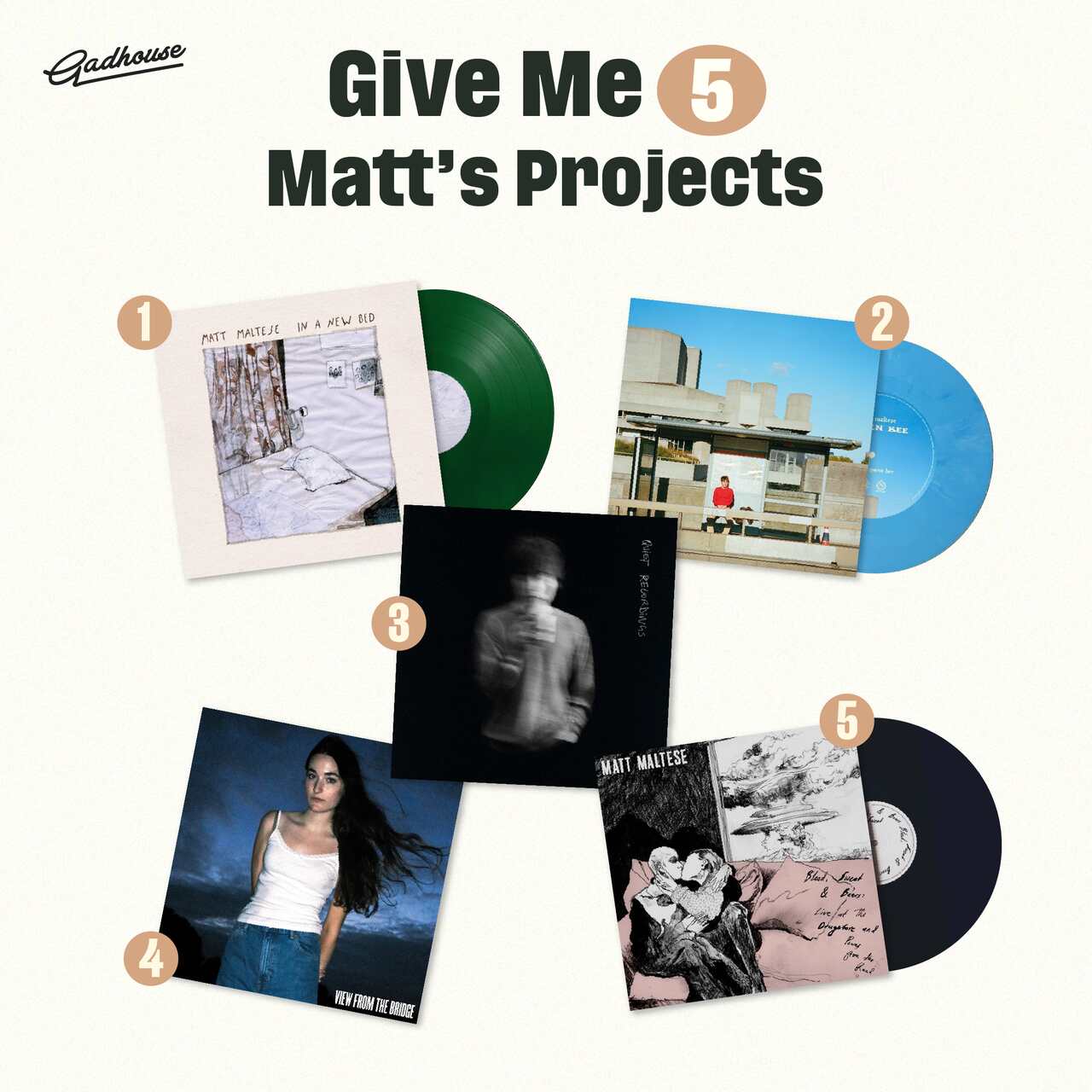 Before signing off, we are here to Give you 5 of Matt Maltese's past projects that you must check out immediately, including an exclusive 7" vinyl, an EP he co-wrote and a limited edition X/400 live 12"!
1. In a New Bed – 10"
The EP that started it all. This 4-piece, including a cover of a Leonard Cohen classic, encapsulates the melancholic, softrock style that Matt Maltese would become known for. This EP also marked Matt's first ever physical release on vinyl, a milestone that was very special to him (and to many young musicians for sure). "It's just physical, isn't it?"
2. queen bee – 7"
Pressed as a special collaboration with Flying Vinyl, queen bee, taken from the madhouse EP saw a special release on a pretty blue marbled 7". The B-side includes sad dream, another track from the 6-piece. queen bee is one of Matt's very few love songs and, according to him, started off as a joke about a silly love song that eventually felt really good.
3. Quiet Recordings – digital EP
Released as a supplementary listen to Matt's third album Good Morning It's Now Tomorrow, this EP includes "quiet" renditions of the album's most beloved tracks, plus an entirely new song Smile in the Face of the Devil and an "unsung" version of Krakow (as if the originals weren't dreamlike enough!)
4. View from the Bridge (Etta Marcus) – digital EP
Working with other artists is something that Matt loves. He began branching out during the pandemic and has been collaborating with others to this day. One of which was View from the Bridge, an EP by South London singer-songwriter Etta Marcus where he had multiple co-writer credits and even a feature on the track Salt Lake City. "I'm lucky that everyone I worked with, I've wanted to work with!"
5. Blood, Sweat & Beers: Live At The Drugstore And Poems From The Road – 12"
This very limited edition vinyl truly retells the trials and tribulations of a singer-songwriter. The EP features live renditions of Matt's classics like As the World Caves In and Strange Time, as well as a poem book with plenty of recollections of his time on the road. When asked if he's considered returning to poetry and other types of literature, he responded that he's "open to it all" and "excited by all formats of writing". Maybe one day we'll be seeing him venture into other areas of literature!
Want more Matt Maltese? Follow him on his socials!