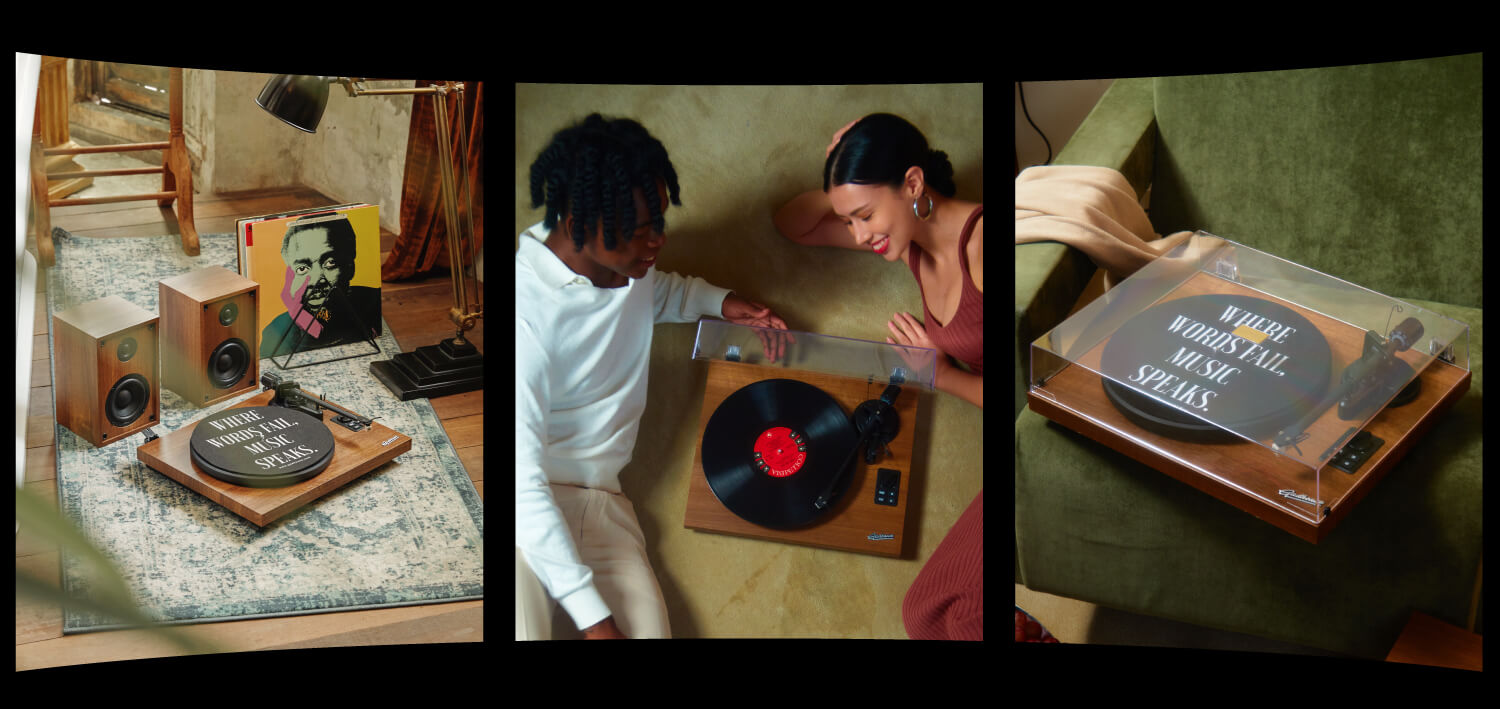 As cool as Brad and DEAN are, they both want to be like their Uncle Henry. When Henry shows up to Gad's House, all eyes are on him. He's sophisticated, effortlessly charming, and timelessly stylish. He's been around long enough to know what he wants and how to get it.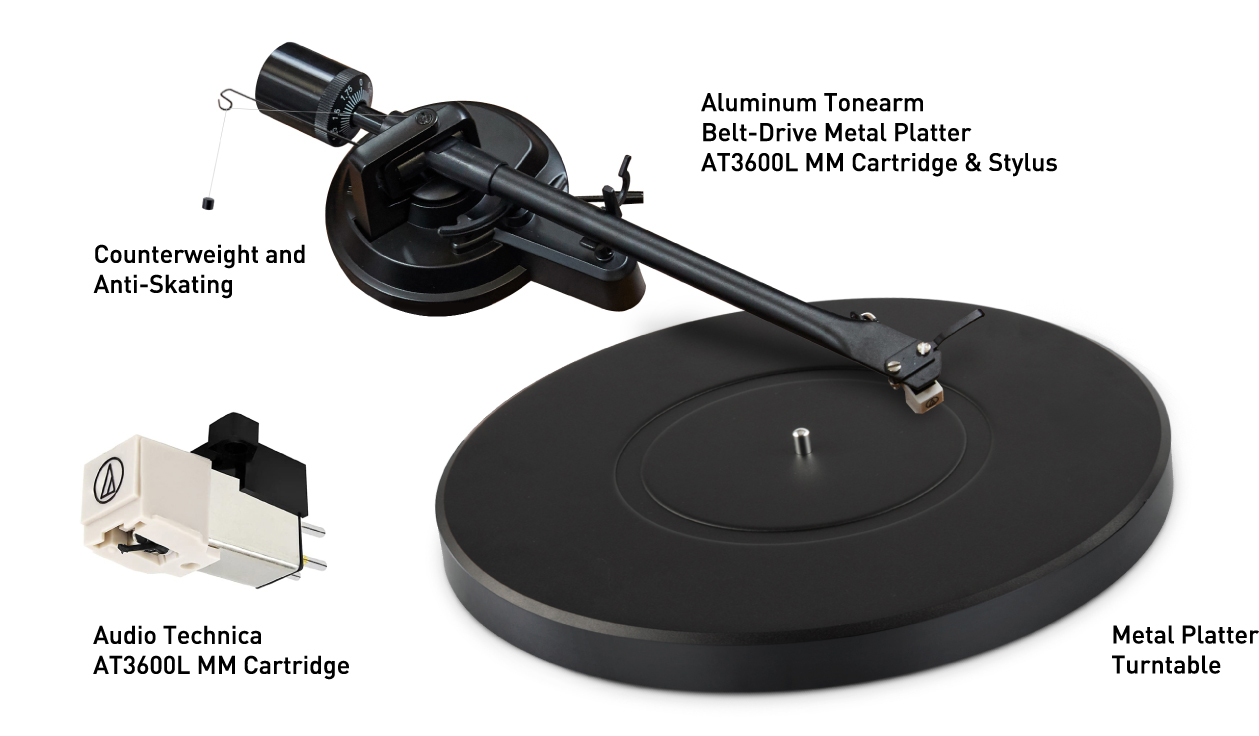 HENRY is the music aficionado's turntable and speaker set. With advances like the Bluetooth connectivity, 60W speaker, and Audio Technica T3600L for smooth, clear sound–and mid-century styling-HENRY packs a low noise design system, speed selector for 33 13 and 45RPM records, plus USB encoding. The perfect combination of nostalgia and progress. It's for people who appreciate the album and album art, who understand the value of sound and design. For music lovers who are ready to indulge and treat themselves with the sounds of yesterday and today.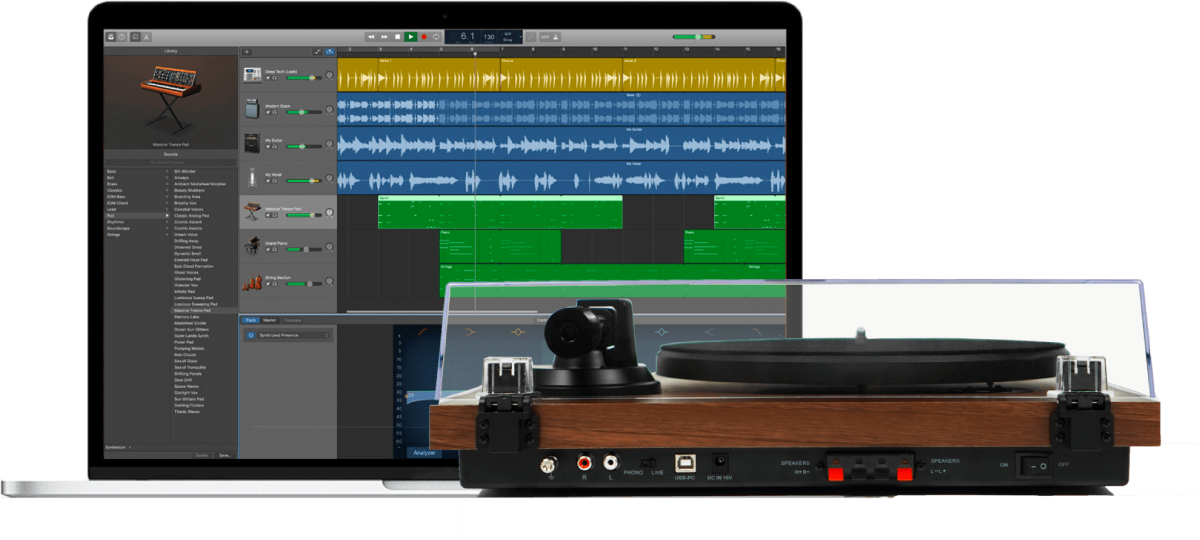 Analog to Digital – Henry's USB encoding means that you can digitize your vinyl collection for listening on the go with his lossless file >= 320kbps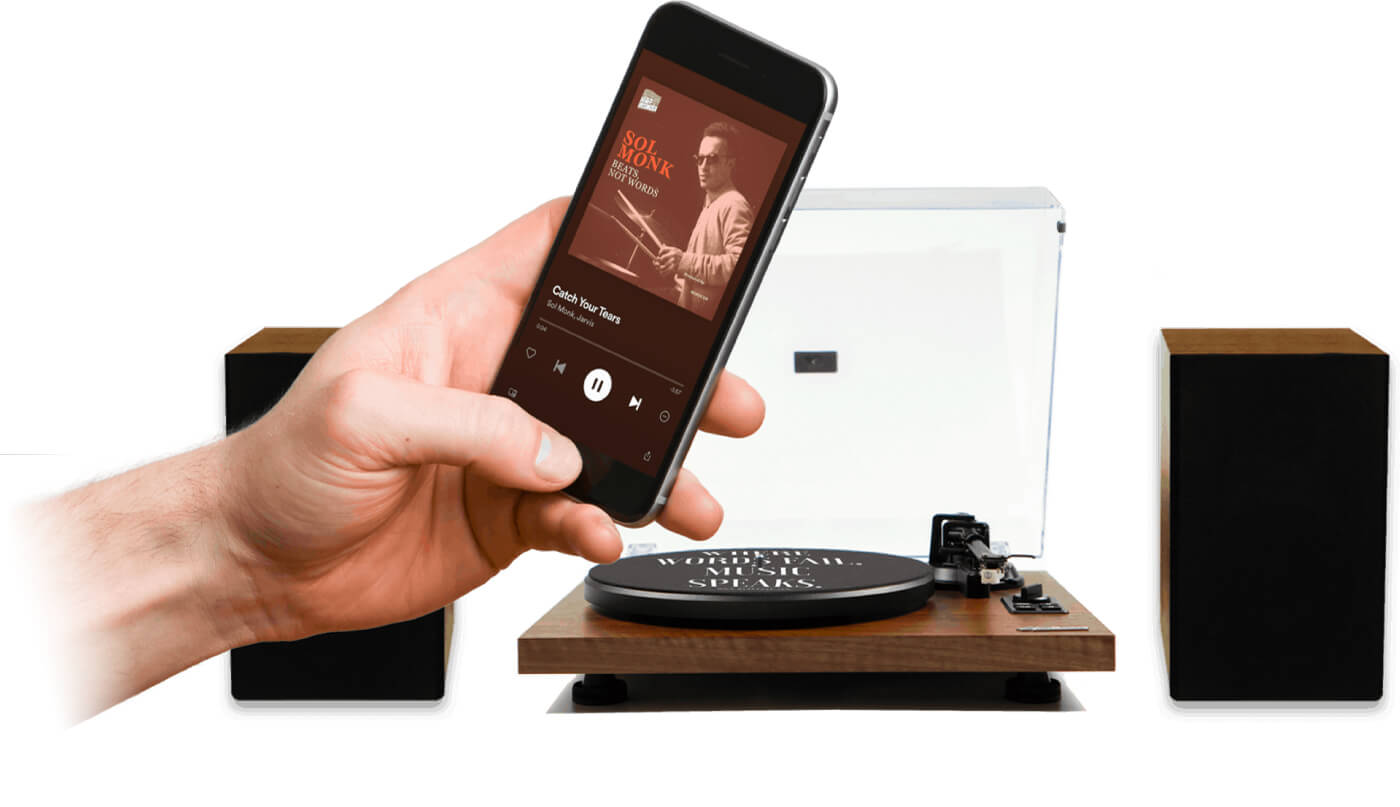 HENRY answers the lifestyle of the new generation, whether put on 33 1/3, 45 RPM records, plus Bluetooth receiver function to transmit your digital music wirelessly through the turntable's stereo speakers are easy to use.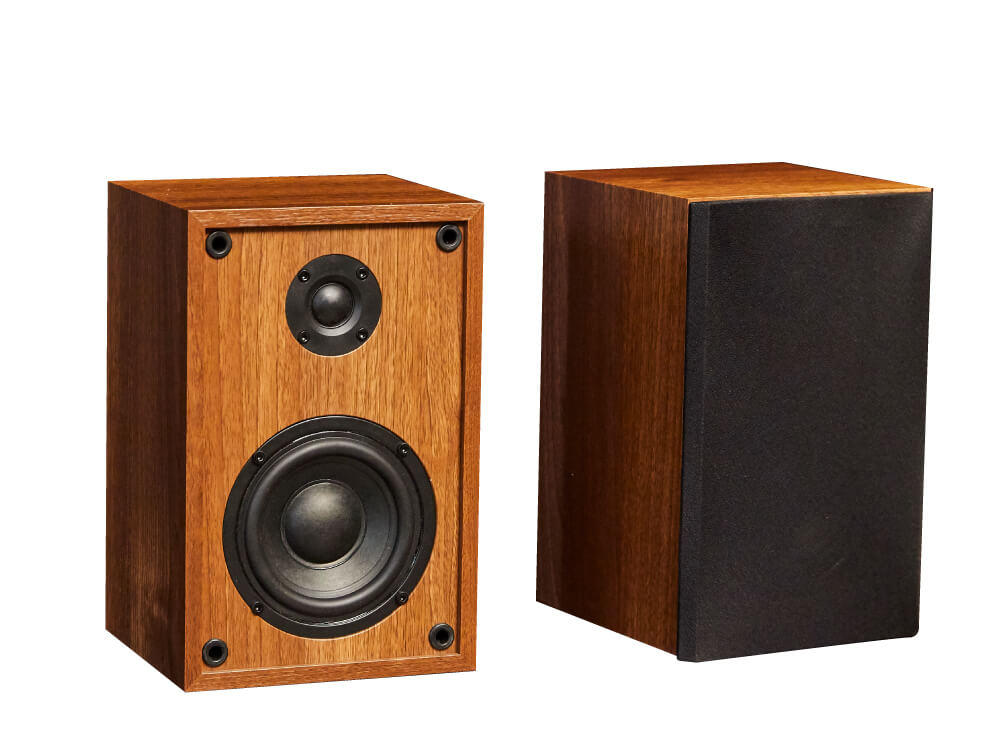 HENRY'S' POWERFUL BOOKSHELFSPEAKERS 60 WATT (RMS) BEAUTIFUL AND POWERFUL THAN BEFORE.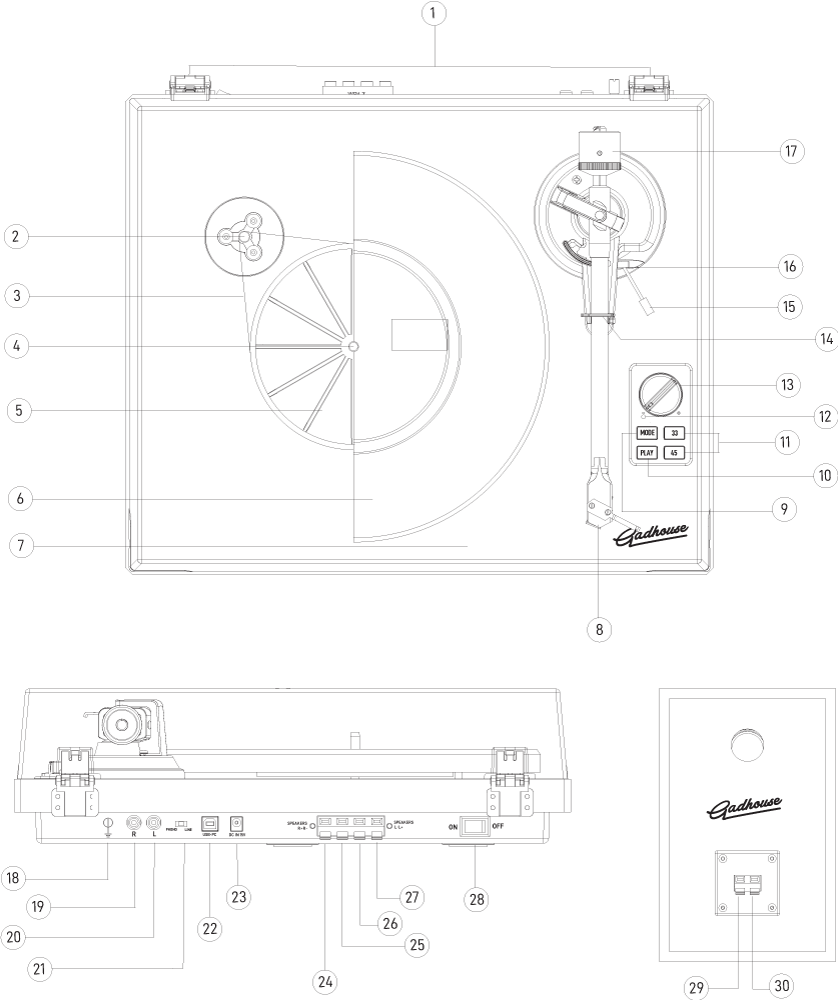 1. Lid Hinge 
2. Stepped Drive Pulley
3. Drive Belt
4. Turntable Spindle
5. Turntable Hub
6. Turntable Platter
7. Dust Cover
8. Cartridge
9. Function Switch Button
10. PLAY / STOP Button
11. 33 1/3 / 45 Speed Button 
12. Indicator
13. Volume Control
14. Tonearm Clip
15. Tonearm Lift Lever
16. Tonearm Lift
17. Tonearm Counterweight
18. Ground Connector
19. R Jack for RCA Line out
20. L Jack for RCA Line out
21. Phono / Line Out Switch
22. USB Port 
23. Power Jack
24. Power Amplifier R+
25. Power Amplifier R-
26. Power Amplifier L+
27. Power Amplifier L-
28. Power Switch
29. Speaker Jack –
30. Speaker Jack +
Henry Turntable
Henry Turntable Lid
2 Bookshelf Speakers with cables
Stylus guard
Iron Platter
Adjustable tone arm counterweight
45 RPM adaptor
Turntable belt
Belt hook
Cartridge alignment protractor
Anti skating function
Instruction Manual
Interchangeable power adaptor supply
Henry Slipmat
Additional cable – 3.5mm Stereo
Female to 2RCA Male
Additional cable – USB cable
Do not disturb door hanger
Story card
Warranty card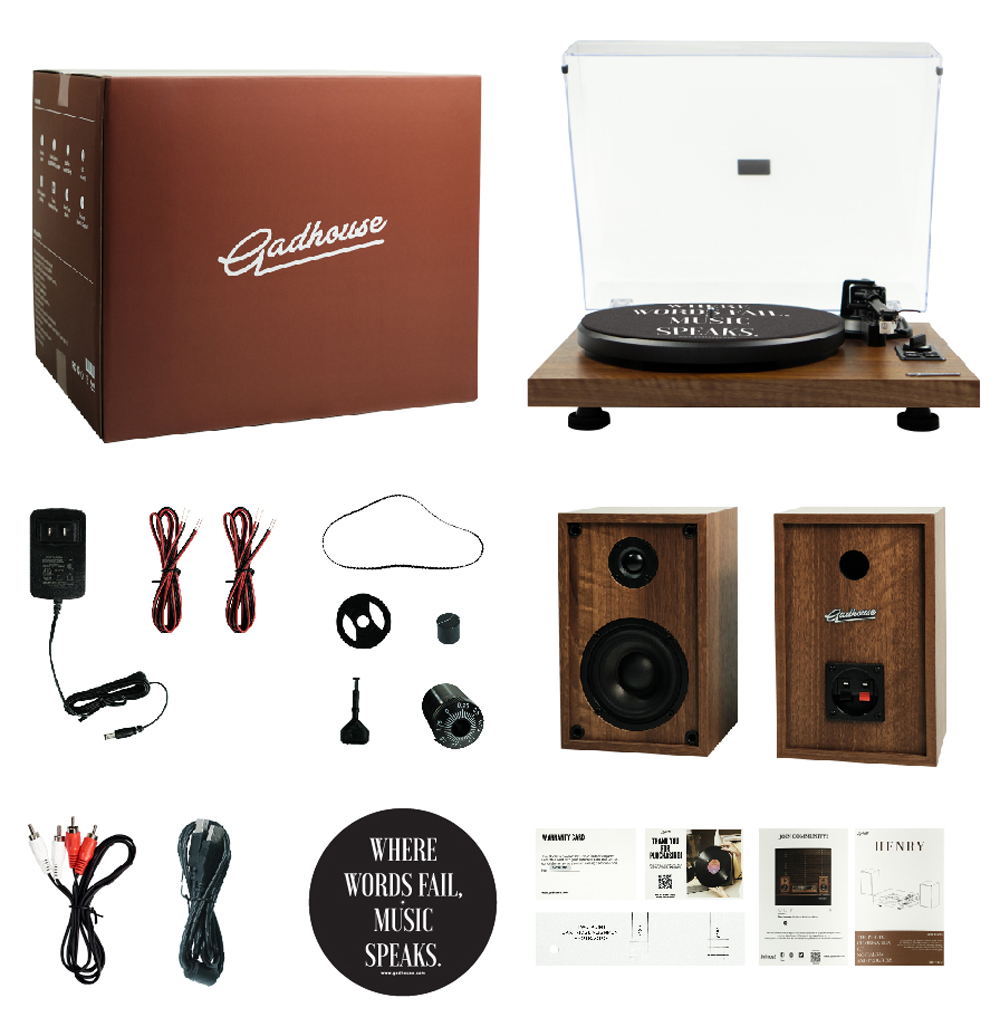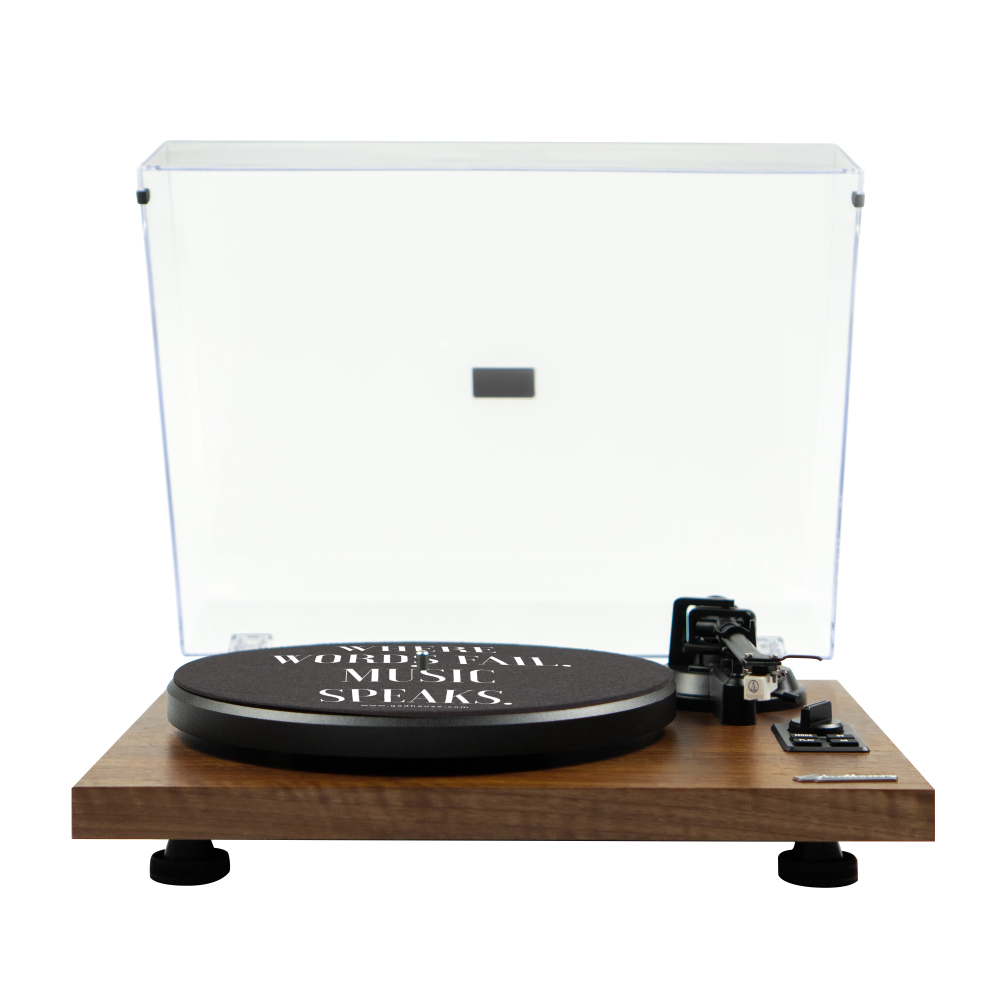 | | |
| --- | --- |
| Power | Power AC power adaptor, DC output 15V 2400mA |
| Power Consumption | 36W |
| Turntable Speed | 33 1/3, 45 RPM |
| Speed Variance | ±1.5% |
| Wow and Flutter | < 0.15% |
| Signal to Noise | 72dB |
| Downforce Range | 0-6.0g |
| Effective Tonearm Length | 8.6"(218.5mm) |
| Overhang | 0.73" |
| Turntable Dimensions (W X H X D) | 418 X 123 X 346 mm with lid open 420 X 410 X 420 mm |
| Weight | 5.77kgs |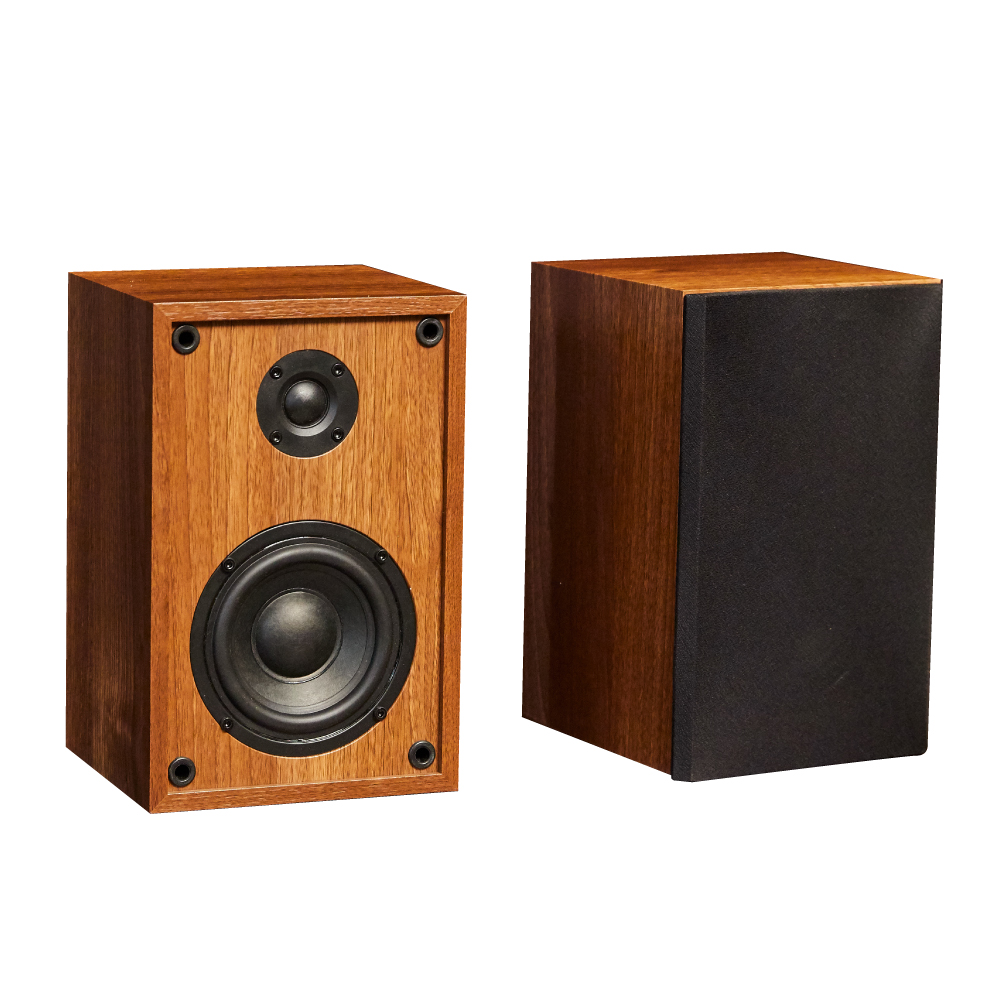 | | |
| --- | --- |
| Tweeter | 8Ω10W X 2 |
| Woofer | 4Ω30W X 2 |
| RMS | 4Ω18W X 2 |
| Speaker Dimensions (W X H X D) | 162 X 248 X 158 mm . |
| Weight | 3.76kgs |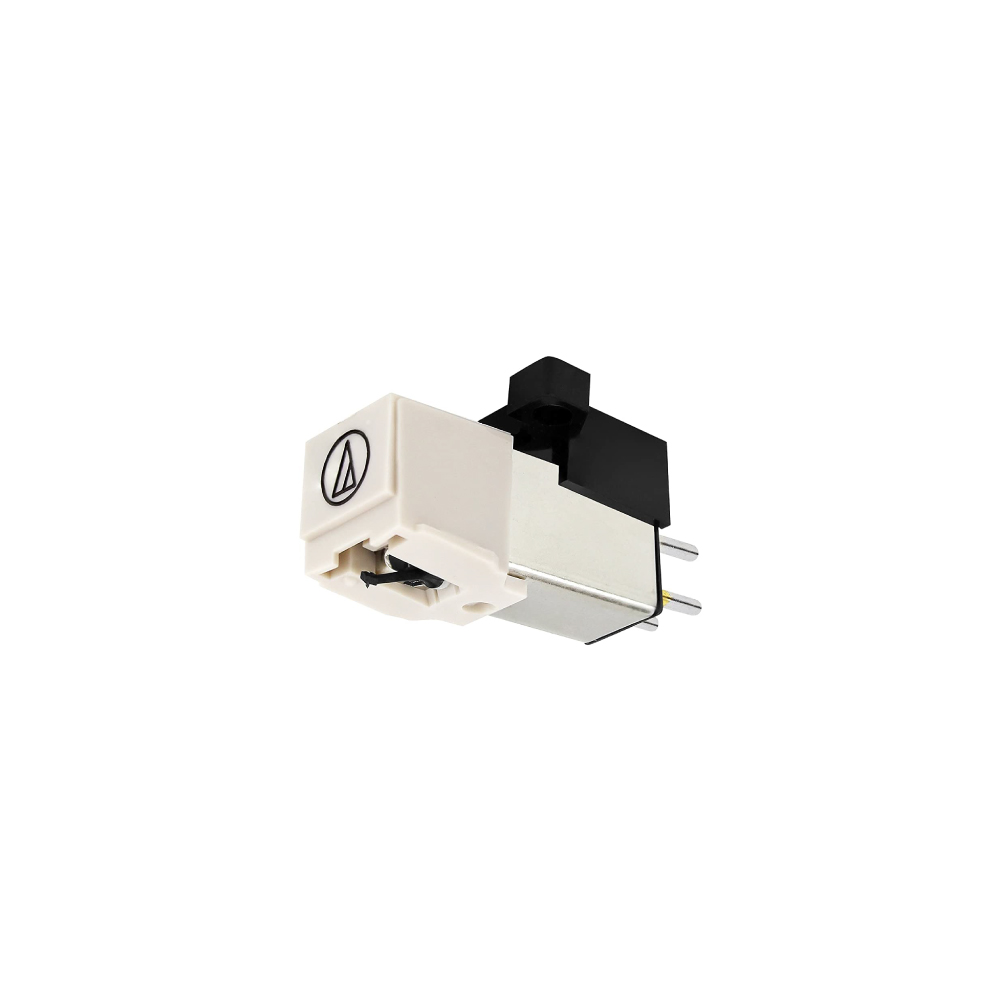 Frequency Response
20Hz – 20kHz
Channel Balance
Channel Separation
<2.5dB
>18dB
Output Voltage
2.5mV
Recommended Load Resistance
47kΩ
Amplifier connection
MM – input
Recommended Tracking Pressure
3.5±0.5g
Weight
5g