Despite their different backgrounds and artistic visions, our artists were tasked with creating art onto the same medium: Gadhouse's products. This assignment, symbolic of The New Signal's core, has resulted in stunning and exciting results that we're itching to show to the world!
All NFT collectors will receive the following perks:
 Physical product
 Exclusive Zoetrope Slipmat by Jarb
 Yearly Record Store Day limited edition vinyl (1 vinyl/year)
 Exclusive New year's gift
 Fast lane tickets to Gadhouse's future events
 Participation in Gadhouse's charity
 Free coworking space membership at Format BKK (Ekkamai 12)
Scroll down to explore our featured artists!
Andre Chan (Philippines🇵🇭)
Title: SYNAPSE
Model: Gadhouse Mathis Turntable
_______
Music isn't just an auditory experience but a visual explosion as well, experiencing what I see through my mind's eyes and brush strokes.
Like a connoisseur in the art field, neural networks mirror the behavior of the human brain. Our brains are cross-wired to specific senses that create certain stimuli. So when I listen to music, I can translate what I hear to color and paint what I "feel". I was listening to Max Cooper's binaural version of Resynthesis 3D while enlisting creativity to Gadhouse's Mathis turntable. This collaboration made me realize that a turntable is an instrument that provides a unique sensation like no other; a deeper connection to music.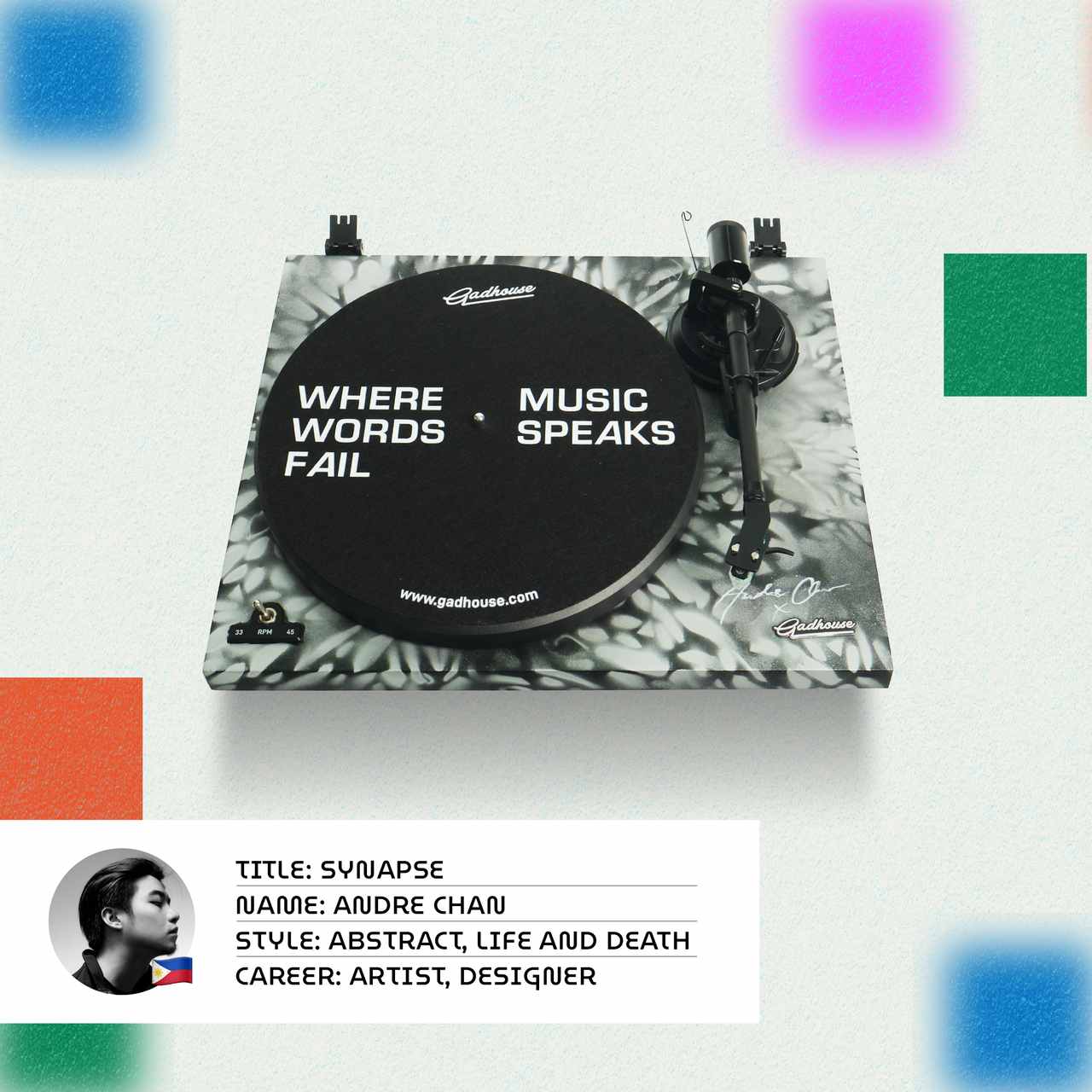 MrKreme (Thai🇹🇭)
Title: The Shroomhunter
Model: Gadhouse Brad Black Edition
_______
This character I have created is called Mushkin, a vegan dinosaur who enjoys eating and becoming in a trance after a hefty meal, represented by the striking colors.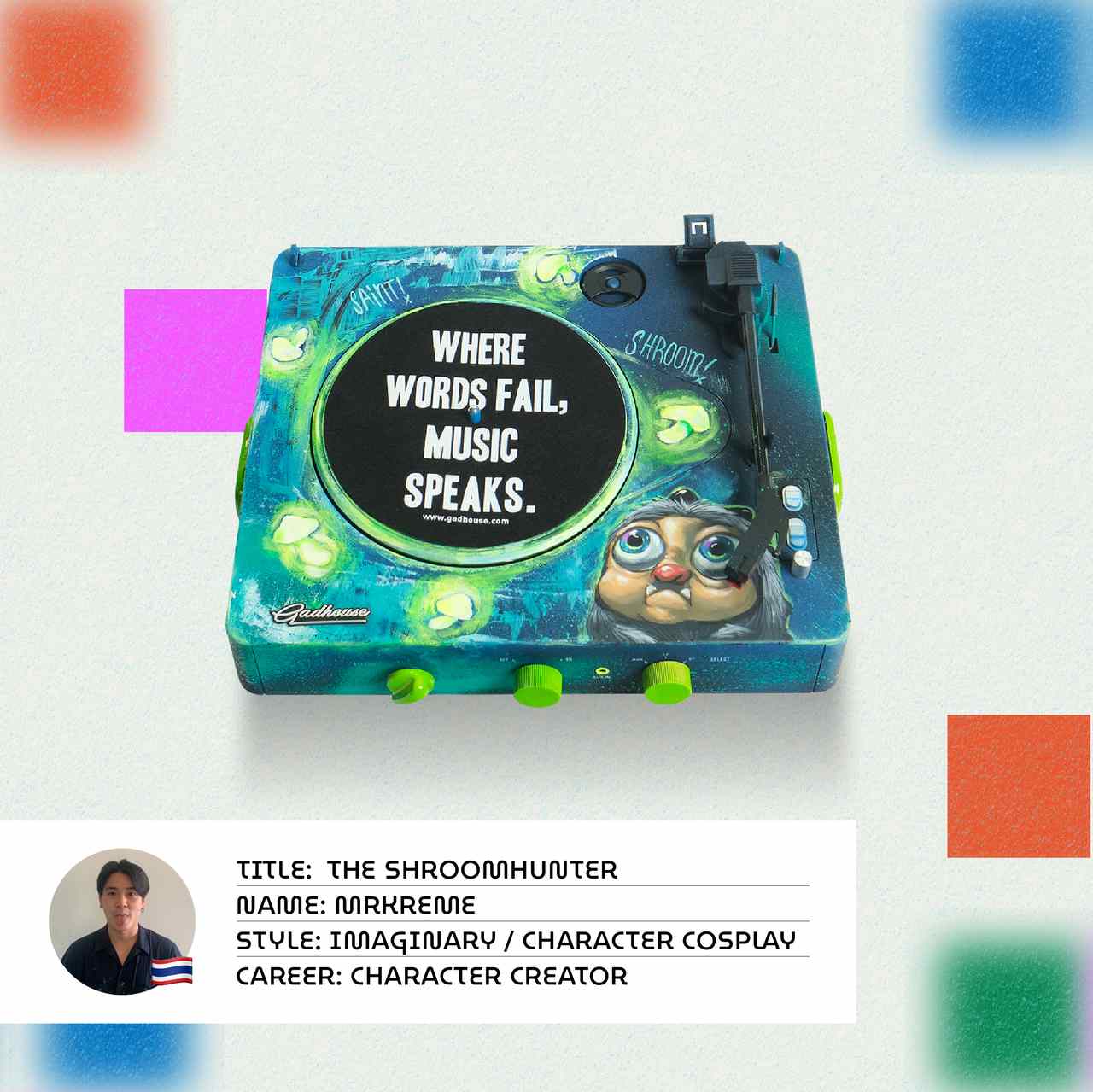 Sidehouse Sunshine (Thai🇹🇭)
Title: Sound Medicine
Model: Limited Vinyl Collection 7 covers and 20 copies
_______
Sound Medicine is a series of illustrations that convey the emotions within music with images, actions or objects, mimicking the effect of hallucinogenic drugs via different colors and elements.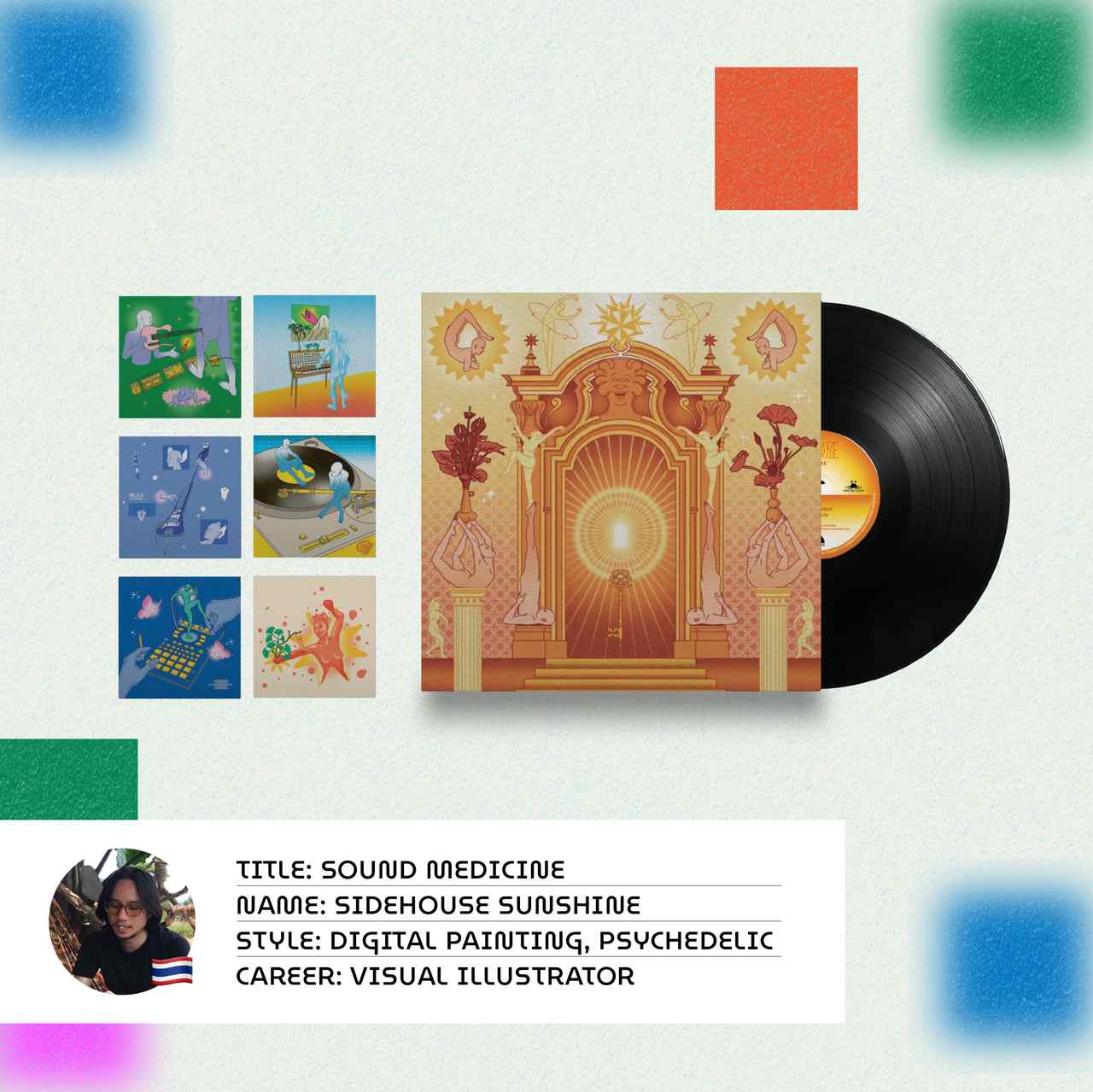 Benj Pore (Philippines🇵🇭)
Title: Drifting to Dreamland
Model: Gadhouse Brad Retro Tangerine
_______
I wanted to visually interpret the act of playing a record as an act of entering a dream or trance. To me, engaging in music is a spiritual, emotional and psychological experience. The act of slowing down and submitting to the idea of letting time pass and allowing yourself to get lost in songs is a very vulnerable state to which I feel is very much the state of dreaming.
When we dream, we are operating on the subconscious. The boundaries are blurred, realities altered, yet the scenarios are ever more attached to our very core. In the dreamscape, we get in touch with our passions, our fears, our strongest convictions and our deepest desires.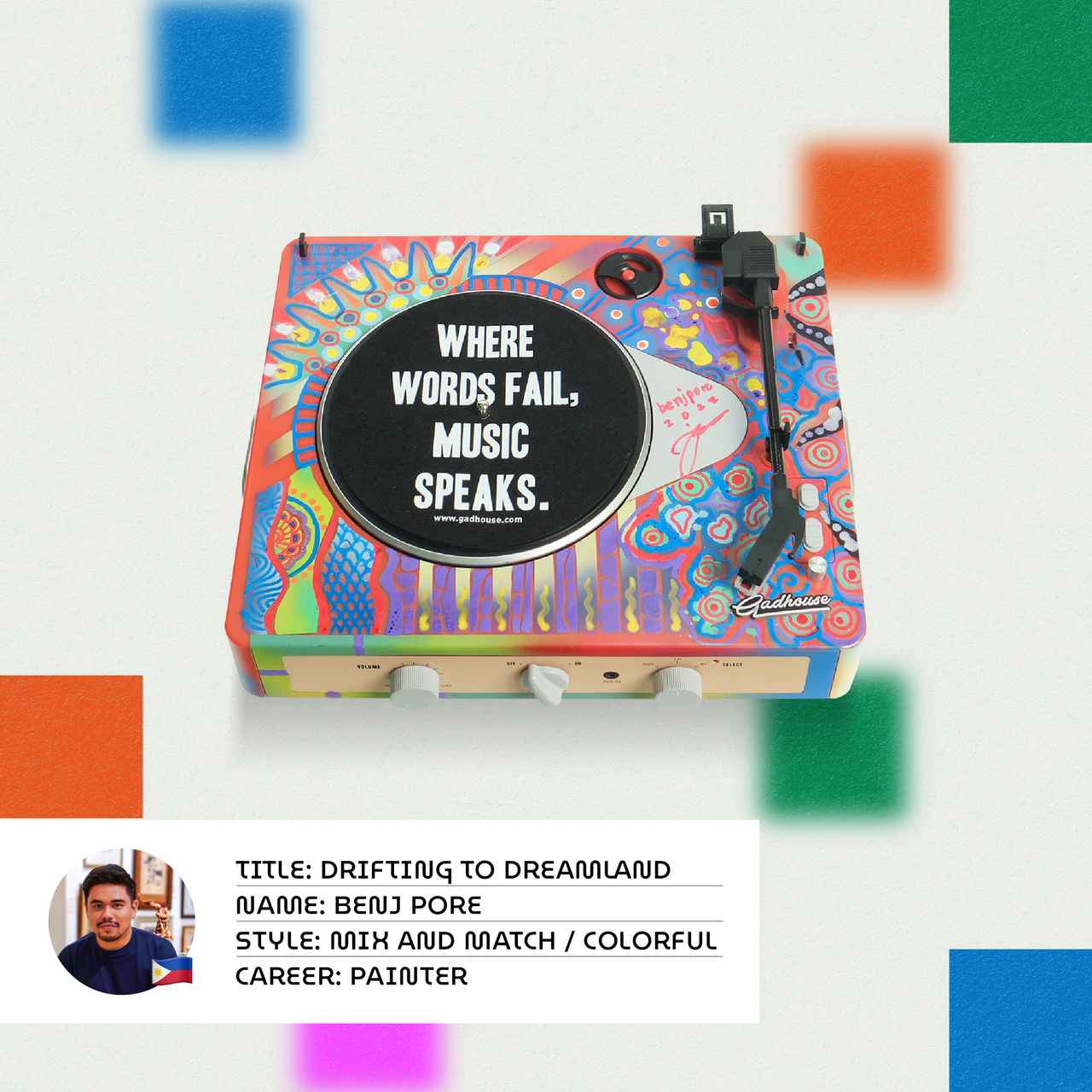 Juli Baker and summer (Thai🇹🇭)
Title: Dancing Heart
Model: Gadhouse Brad Retro Tangerine
_______
When music speaks to your soul, your heart dances.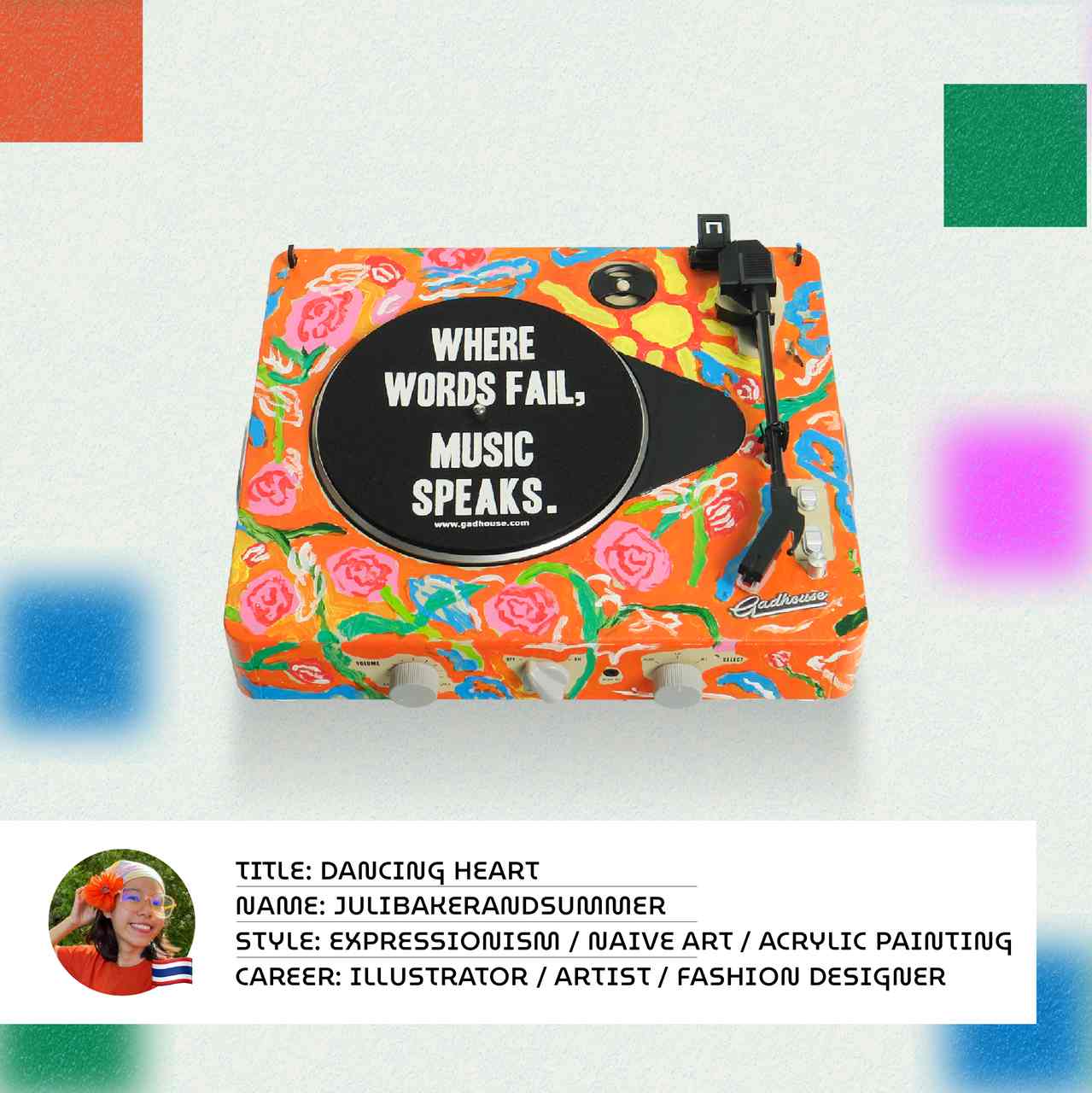 Jen.Two (Thai🇹🇭)
Title: Good Music, Good Humour
Model: Gadhouse Brad Retro Ivory
_______
Music is a medium that evokes various emotions in the listener, including the feeling of joy. For this piece, I have illustrated activities and elements to portray how music can spark joy, such as a boy skipping to the rhythm in his heart, a group of dancers, a disco ball and a bear dreaming sweet dreams.
(Artwork available for physical purchase only @ The Next Signal Event at Townhouse Space Ari4, BKK, September 24 – 25)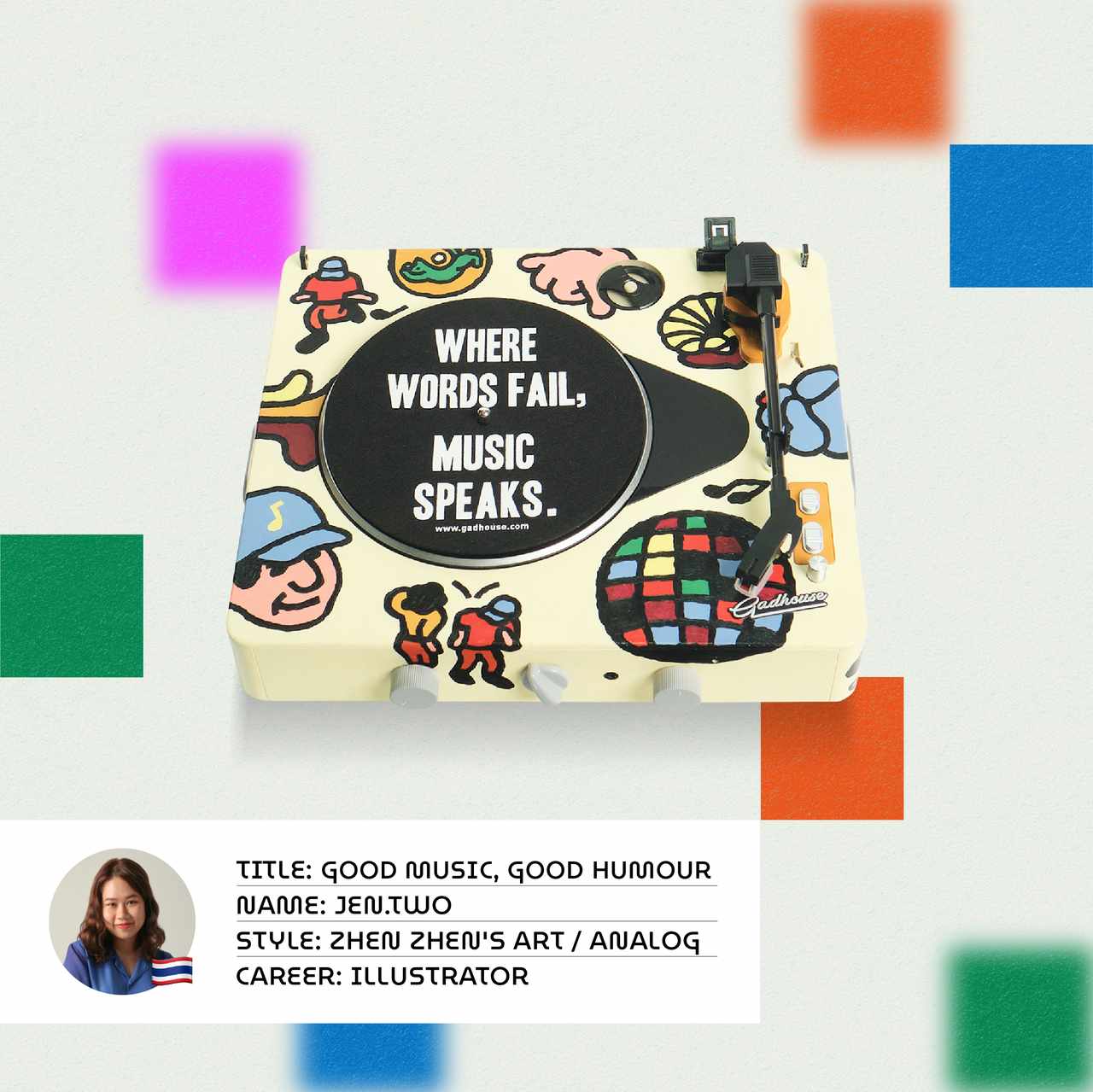 Balloon Boy by Pod Moderndog (Thai🇹🇭)
Title: Traveling without moving
Model: Gadhouse Mathis Turntable
_______
"Traveling Without Moving" shows the journey one can make via a record player. Music is a vehicle that transports us anywhere, breaking through and transcending boundaries. 
Jorra (Thai🇹🇭)
Title: MUSIC MAKES ME FEEL ALIVE
Model: Gadhouse Mathis Turntable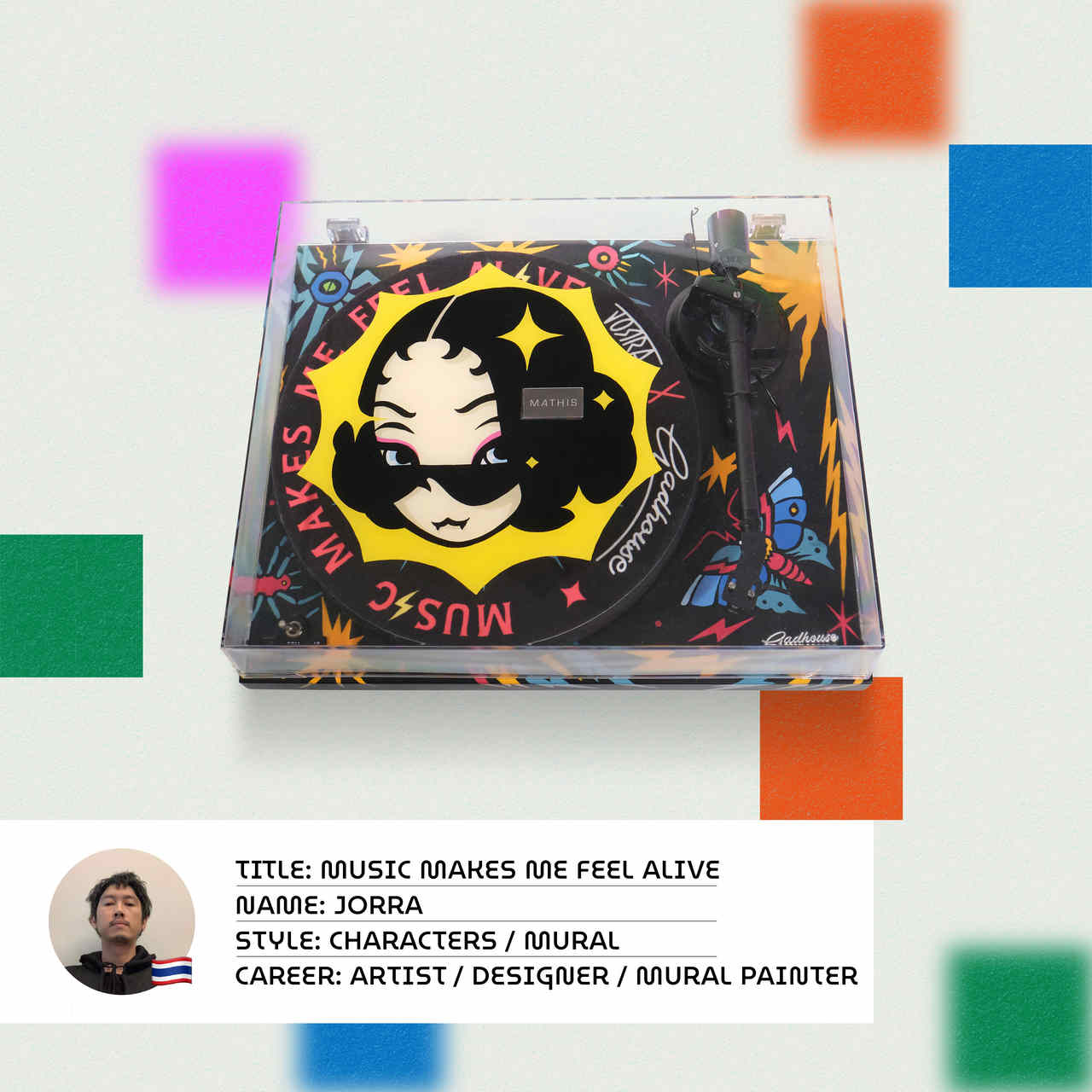 Pai Lactobacillus (Thai🇹🇭)
Title: Visual Therapy 0.01
Model: Gadhouse Mathis Turntable 
Kimchisuperpower (South Korean🇰🇷)
Title: Untitled
Model: Gadhouse Lucen Record Trolley
_______
This piece is inspired by Lucen's mid-century/vintage aesthetic with its solid and bold shapes. I wanted to create a theme of 'balance' with circles in the middle that represent the sun and moon while using black and white to recreate Yin-Yang patterns.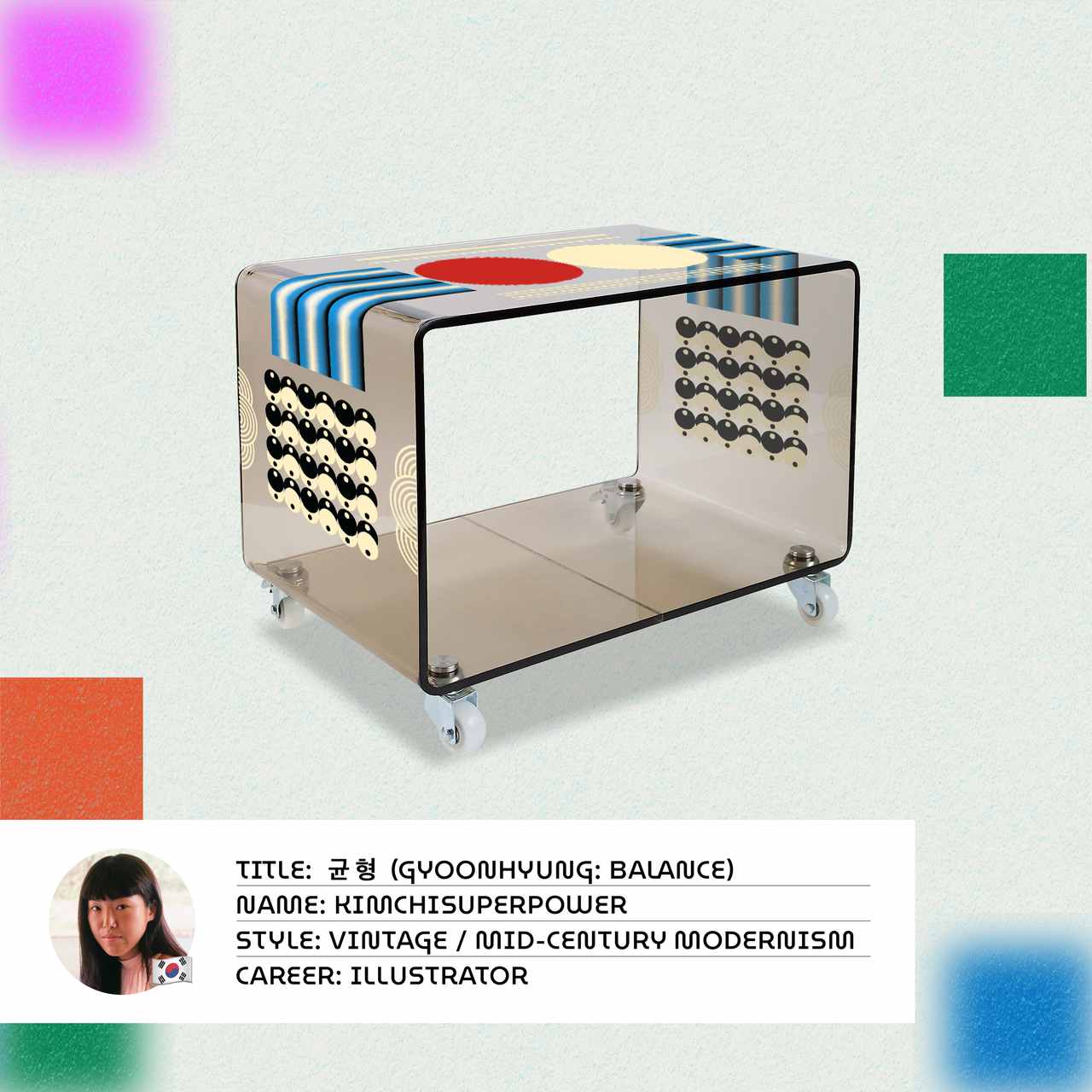 Jarb (Thai🇹🇭)
Title: Nostalgia Machine 
Model: Gadhouse Mathis Turntable
_______
This piece captures and elevates the artist's feeling of nostalgia onto the medium of analog record players, an item that — in itself — is a nostalgia machine.
David was used as one of the first subjects that the artist used to practice sketching, thus holding a nostalgic meaning to the artist. The swimming pool reminds the artist of their family and the meaningful loneliness attached to them. The vinyl record embodies memories while the glass of wine is meant to be enjoyed while appreciating the moment before it fades away.