Dohee Kwon (AKA Kimchisuperpower) is definitely an artist to keep an eye on when it comes to album art. Her unique style captures modernity perfectly and transcends the East and the West, making her a rising sensation in the album cover design field.
Her IG username speaks for itself: her album art just has that superpower that captivates people into picking up that record, listening, and falling in love with it. 
Some say not to judge a book by its cover, we say Kimchisuperpower's album covers are the exception: the cover you see is truly the music you hear. 
But how does Dohee transform the meanings and themes of albums into colors, graphic elements, and designs that resonate with both the artists and listeners? Let's take a look at how it started and how it came to be.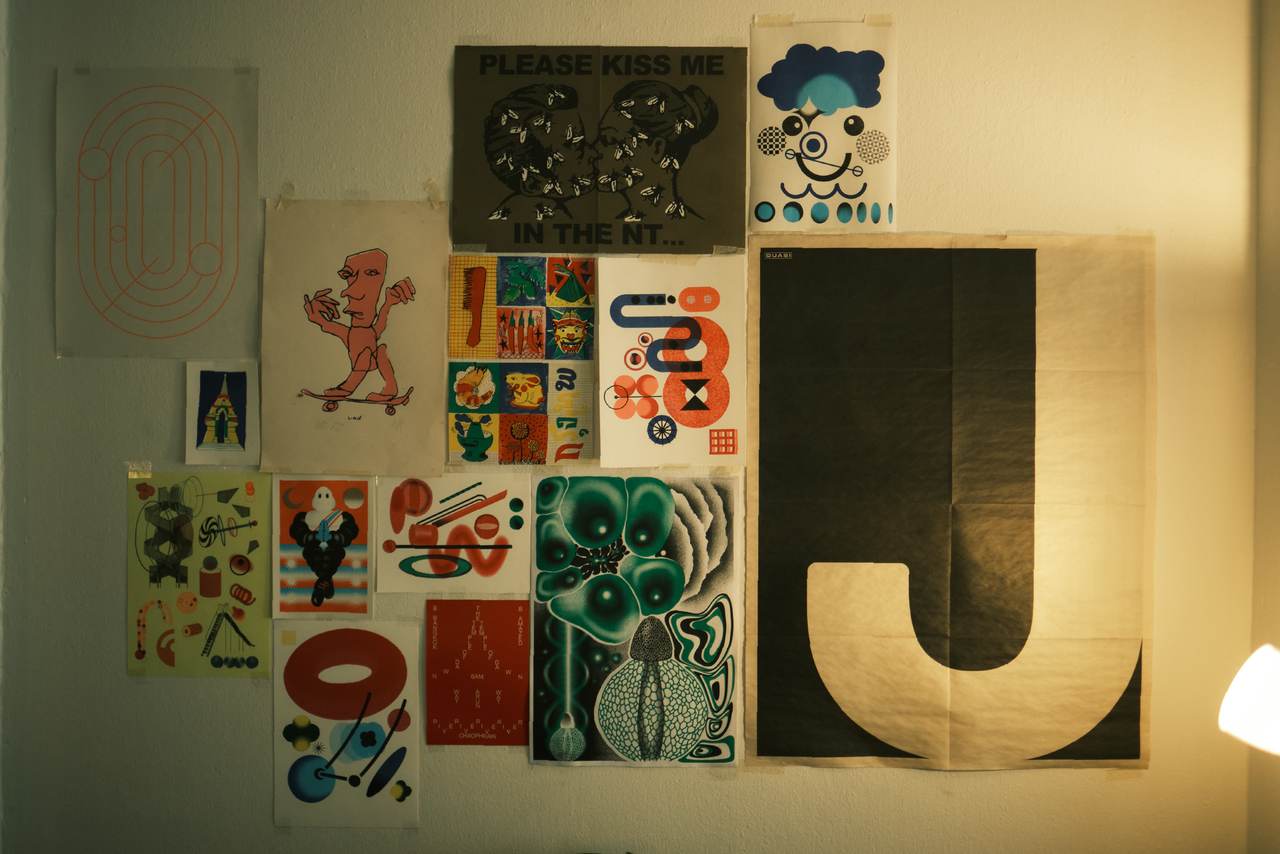 I'm somewhere between.
The constant moving between South Korea and Thailand resulted in Dohee feeling like she didn't belong in either place but somewhere between. For this reason, she adopted a lifestyle that requires light to minimum possessions. Suffice to say that committing to a record layer wasn't her priority. It wasn't until recently after designing 12 album covers when Dohee owned her first record player, Gadhouse's Mathis, that allowed her to finally listen to the albums that she helped design in the comfort of her current home.
Dohee was born and raised in the city of Masan in the south of South Korea, not too far from the well-known coastal city Busan. After graduating high school, she went on to study visual arts in Seoul, specializing in video editing and graphics. Her chops in design are results from her background as a graphic designer, having worked for a year for a company in South Korea.
As for the reason why she decided to reside in Thailand, Dohee talked about how she has many close friends who live in Chiang Mai. She then fell in love with Chiang Mai's charm to the point where she would organize yearly visits, each up to 3 to 4 months. It was only last year when she finally relocated to Thailand.
"I really love 'Doi Luang Chiang Dao'. It's such a beautiful and peaceful place. But it was when I had to quarantine in Bangkok that made me settle here. For me, Bangkok is a fun city full of music and interesting places."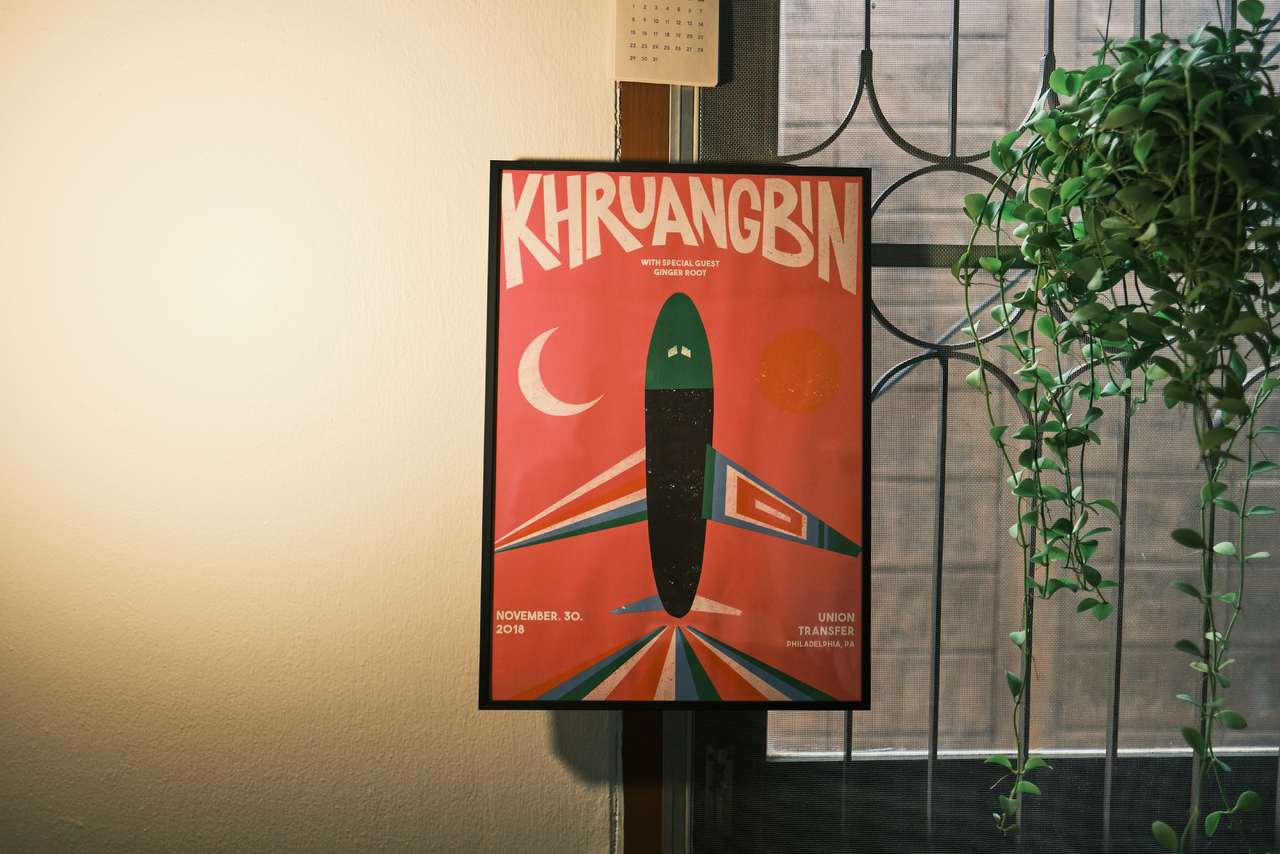 From hobby to profession.
Originally, Dohee's artistic destination wasn't located in the album art field, but thanks to her love for drawing, one of her posts on her Instagram account caught the attention of Laura Lee of the band Khruangbin.
Aside from her usual designing job, Dohee enjoys drawing and posting her work on her personal IG which, at the time, had only 40 followers. Though one of her posts included the hashtag #Khruangbin which led to the band's bassist Laura Lee sliding into her DMs and commissioning her to design the band's poster.
"After Khruangbin posted my work on their official account, followers started pouring in and I began to be recognized by artists in the same circle as Khruangbin such as Sven Hammond or The Suffers."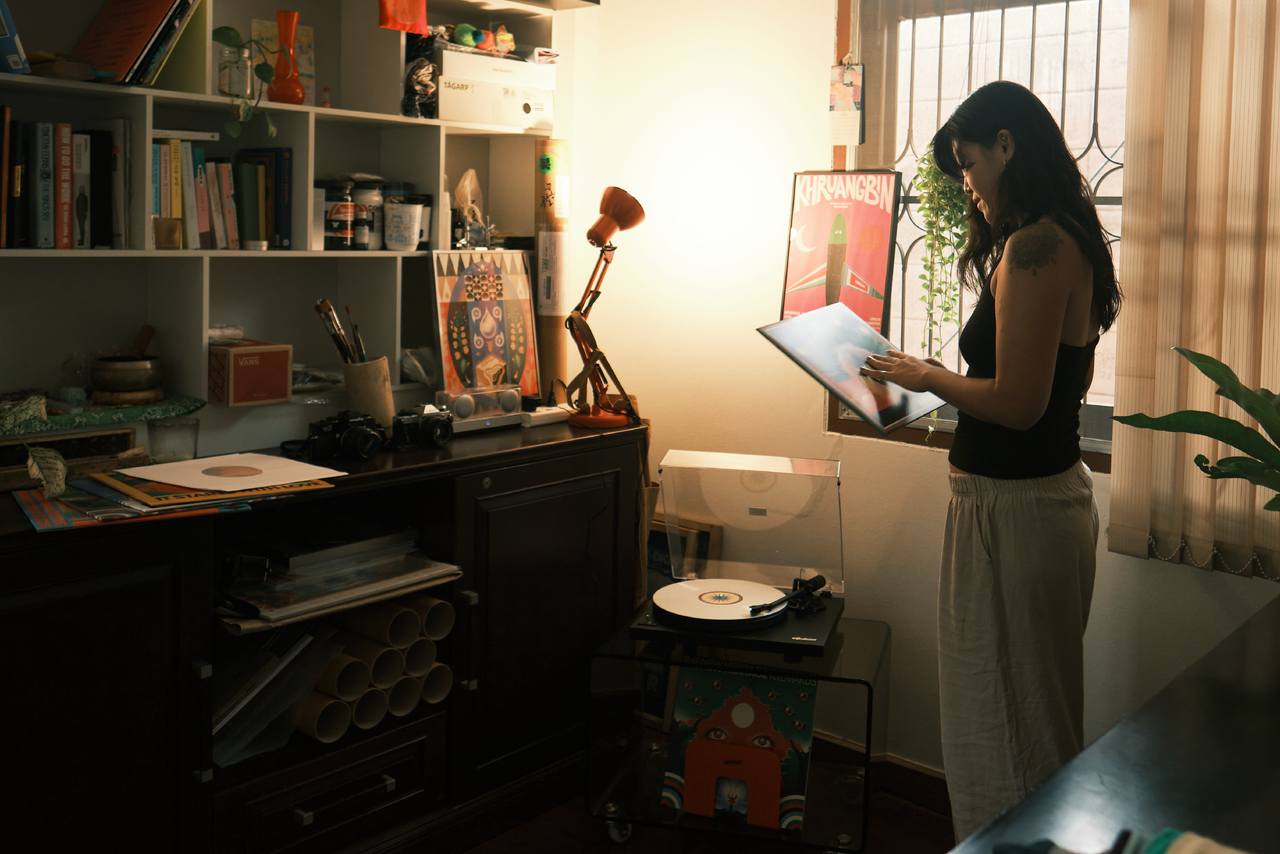 Hear it before you do it.
Most of the albums whose covers Dohee has designed lean towards psychedelic rock and jazz. In the past 3 to 4 years, Dohee has come out with 12 album covers, but not all of them have been added to her record collection. We asked her to spin the ones she currently has for us and were mesmerized by the sound of those records. The music combined with the record color and Dohee's album art created an immersive listening experience.
When asked about her design process and whether she listens to all of the songs before getting her hands on them, she replied with a sentimental tone.
"All of the artists approached me with a wonderful attitude. They would send the entire album to me so that I could listen to it and plan ahead on what to do. I felt amazed and also honored that they would share with me the product of their hard work and time to listen before anyone else."
After going through the album, Dohee would identify the concepts and themes of the album and transform them into visuals. They are then sent to the artist and/or label for approval. The album art is then finalized once approved.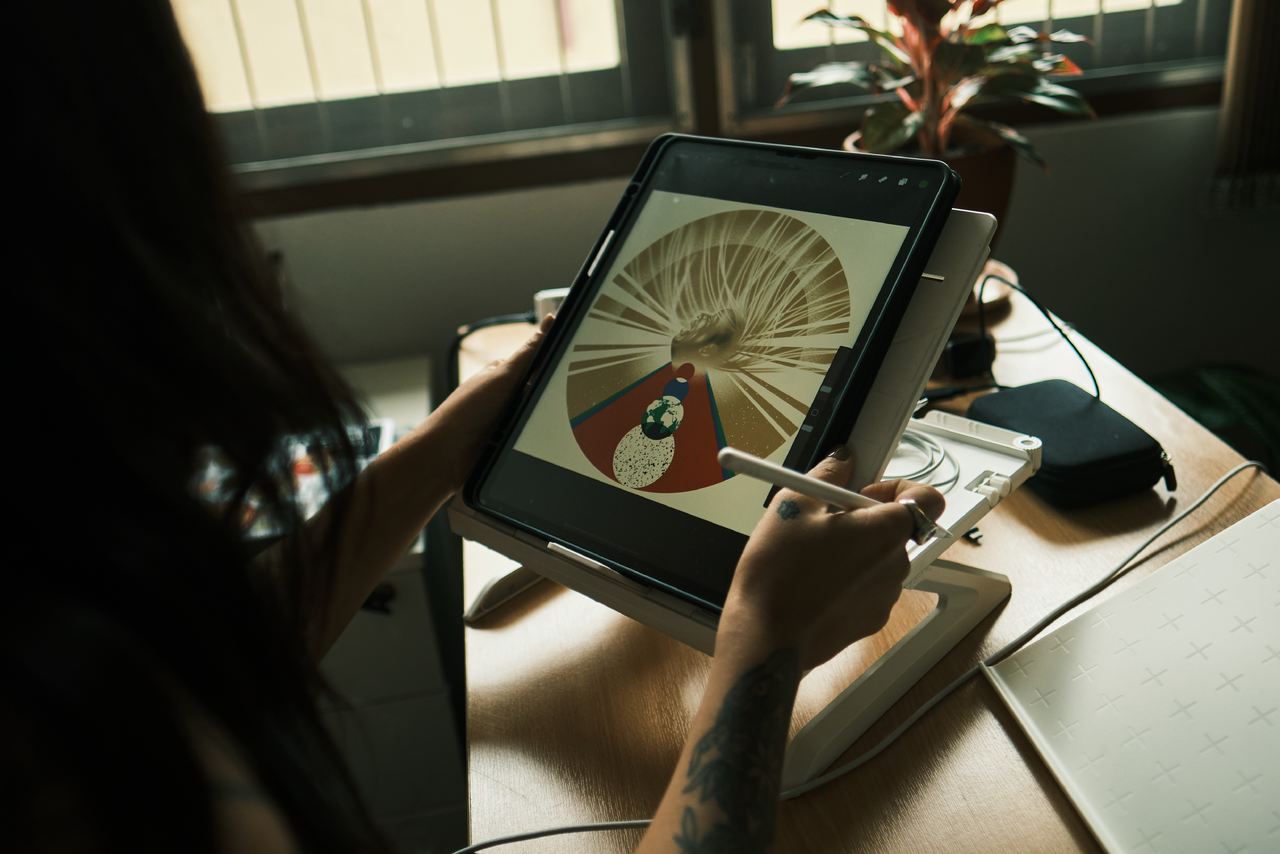 Art is how you express yourself.
Followers of Dohee on Instagram might have seen how she creates fine and precise art with only her iPad and Apple Pencil, but this isn't the only format she uses for her creations.
"I think it depends on how you define art. For me, art shouldn't be something intimidating. It should be something that makes you comfortable and confident. Art is how you express yourself without being shy or hesitant."
Back in South Korea, Dohee spent a lot of time drawing. Apart from her iPad or paper, her work has also been featured on other materials such as glass, wood or even risograph printing, one of her favorite mediums.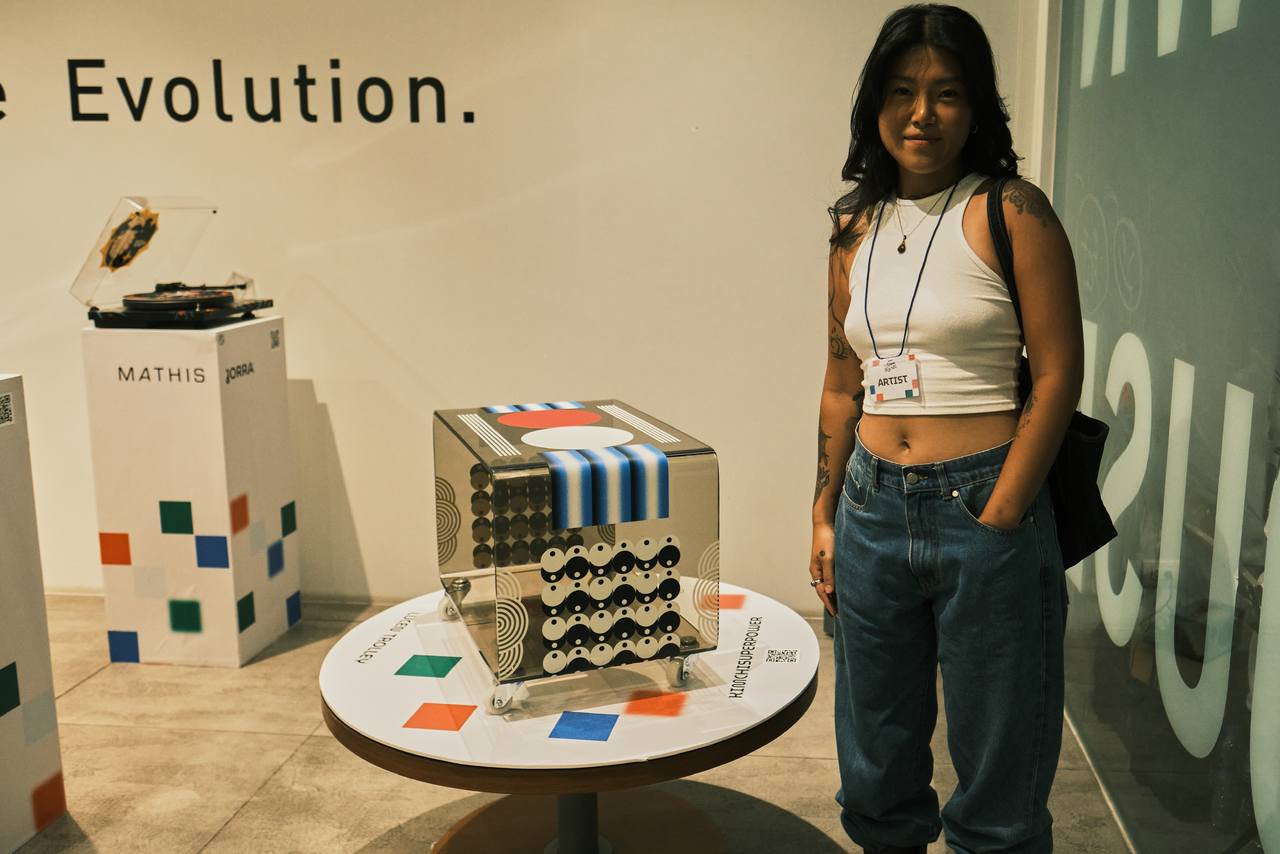 Her latest work "균형 (Gyoonhyung: Balance)" is anexample of Dohee's dabble into unusual medium. With Lucen Record Trolley's surface being made of acrylic, the challenge of this piece is to create a design that translates onto this unconventional material while making the most of the trolley's curves and swerves, a challenge that Dohee perfectly executes in a mid-century style. (If you're interested in this piece, head to https://bit.ly/dhnft)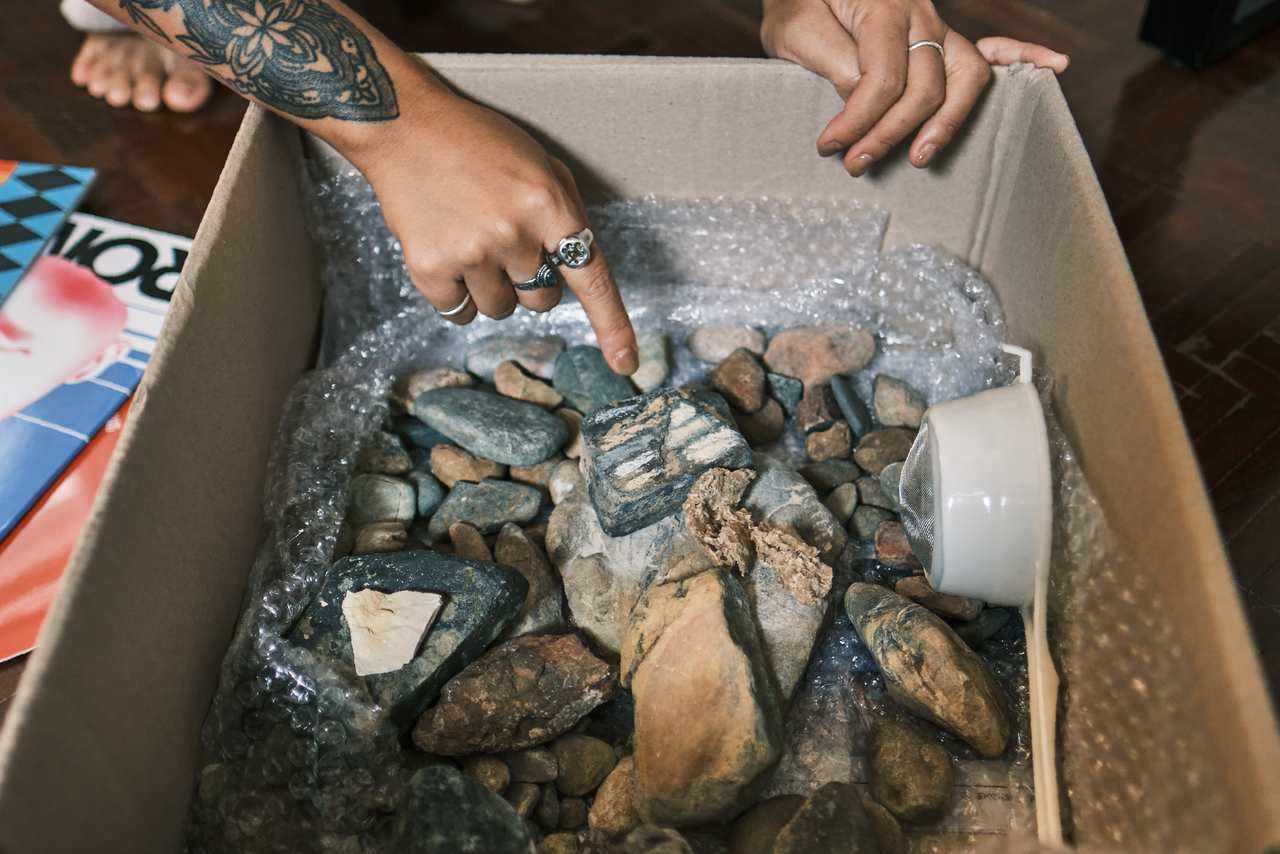 Recently, Dohee is into making her own pigments from natural colorants by using grinded rocks and turning them into paint that can be used on paper.
"It's like I'm performing new experiments because I try to bring natural elements into my digital work. Its slightly desaturated colors can result in a unique piece of art."
Dohee's technique or style might be a bit difficult to define, but to put it simply, she describes her art as vintage since many of her inspirations come from the past.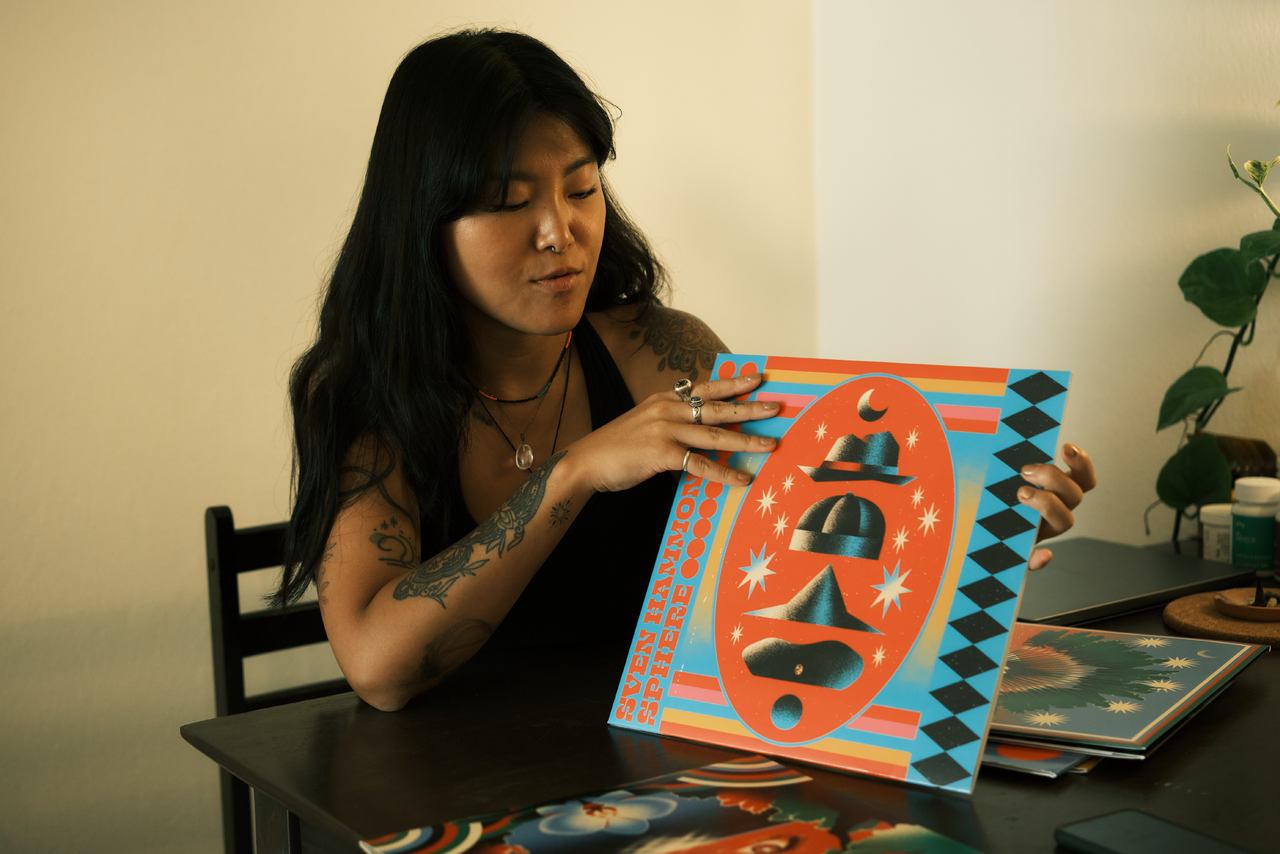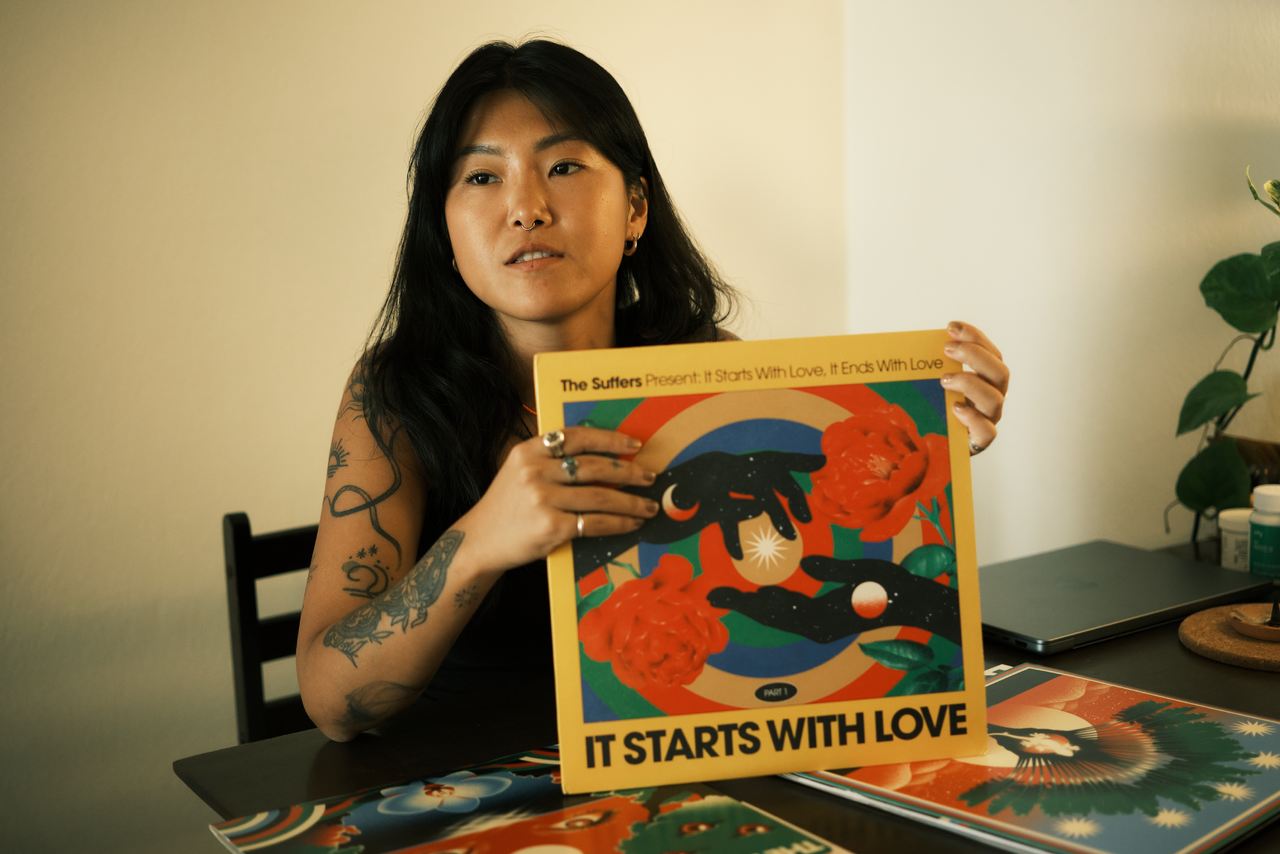 Music art makes art tangible.
The first record that Dohee owned is by Sven Hammond, an album that pays tribute to jazz legend Thelonious Monk. Dohee's collaboration with Sven Hammond was one of her many results from her connection with Laura Lee and Khruangbin. Their collab extended from the album art to a long term project with posters and more. Dohee says that she enjoyed working with the same artist for a long period of time as it allows her to learn and grow with them.
"Apart from Sven Hammond, there was also The Suffers who was another connection from Khruangbin. Creating music art makes me feel like I can actually touch my own art and own it more than other formats. After the artist sends the finished record and I add it to my collection, it feels even better."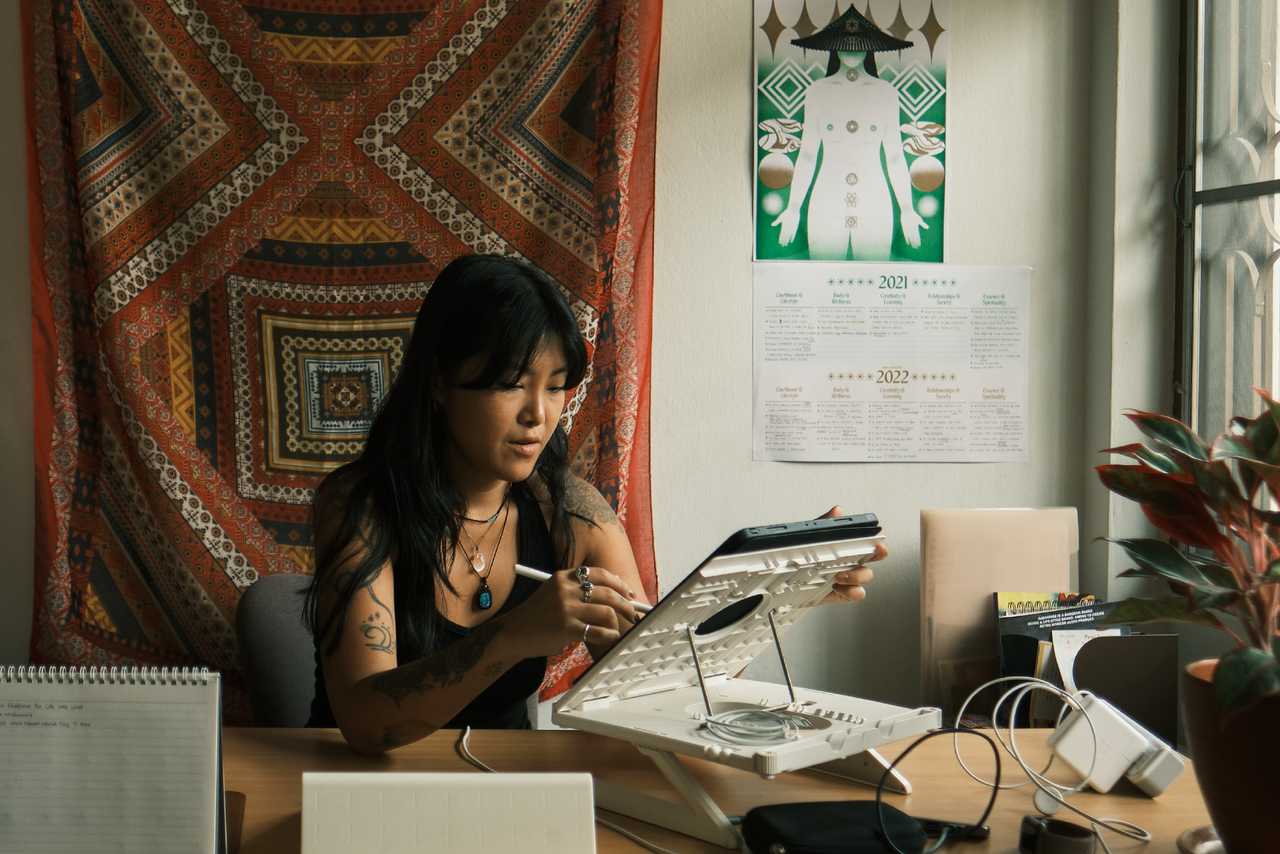 Our conversation moved to Dohee's studio and we realized that there's a lot of natural light. We then asked about the time she prefers to work and whether it's always at this space.
"I like working where there's a lot of light, especially during the daytime. When I plan to travel somewhere for a long time, I would bring my work with me. I can work anywhere. It doesn't have to be in Thailand or South Korea, but I feel the most comfy working in my home studio."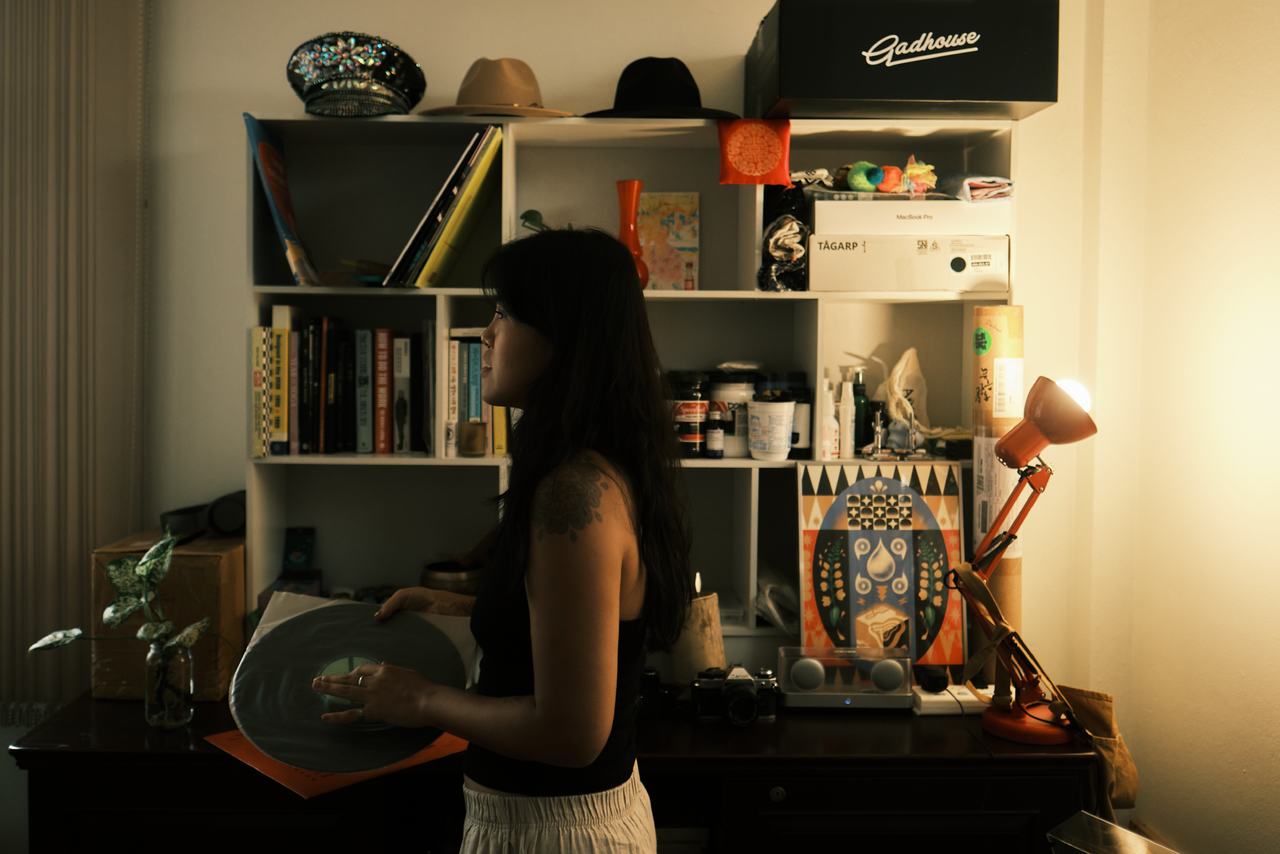 We also noticed a Siangsiam record peeking out of her record display so we didn't hesitate to ask where she got that from.
"I got this record while I was looking for some vintage items at Chatuchak Market. I tested the record and it was very fun and playful. I had to buy it."
As for new/sealed records, Dohee thinks that they are way easier to find. On the other hand, she feels that second hand and vintage records are more unique and specific to their locations. We then became the interviewee as Dohee asked about places to dig for used records in Bangkok.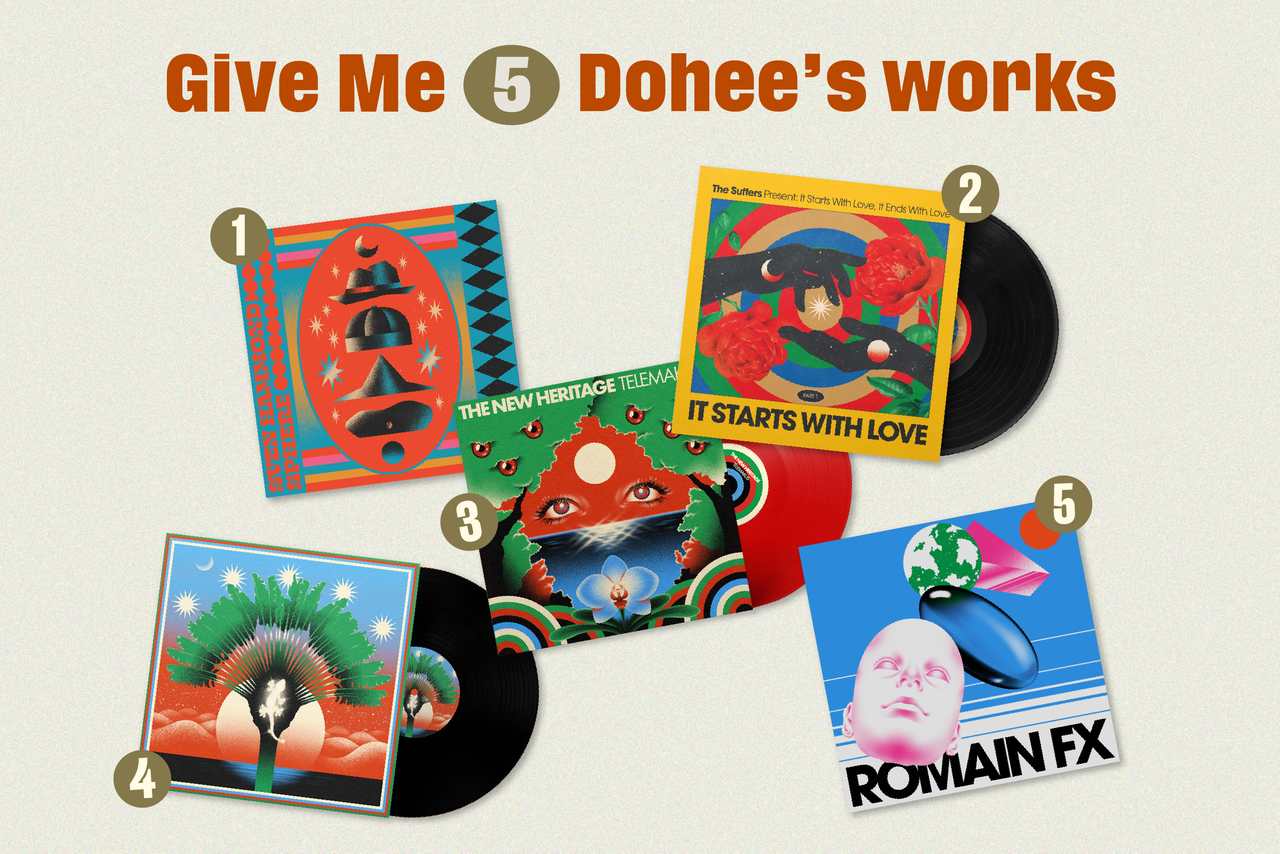 Give me 5 (Dohee's works)
We asked Dohee to share with us 5 albums for collectors who are reading this, specifically 5 which are her own designs, making way for her to share the story behind each cover in detail.
Dohee shares that she doesn't just design the cover but the whole album packaging: the front cover, back cover, spine, sleeve and even the label in order to achieve the most cohesive result. Let's take a look! 
1. Sven Hammond – Sphere – A Tribute To Thelonious Monk
This album is considered as Dohee's favorite child since it was the first record that she has worked on. The design features Thelonious Monk's iconic hats that he wore during his live sessions as the key element. The cover feels dreamy thanks to its color and texture and the hats are laid out to resemble a UFO abducting Monk away. 
2. The Suffers – It Starts With Love, It Ends With Love: Part 1
This album took more than 2 years to complete due to the pandemic and was finally available for sale in 2022. Kam Franklin, the lead singer, is friends with Laura Lee and she contacted Dohee after seeing her work for Khruangbin. Dohee says that long term projects normally make her feel exhausted though that wasn't the case with this album, thanks to how nice the members are. Part 2 of this album is coming out soon with another cover designed by Dohee. She says that she's in the process of transferring the songs' meanings and feeling out the visuals. 
3. Telemakus – The New Heritage
Her favorite album cover she's designed. Dohee says that Telemakus sent her all of the 16 songs and explained what he wanted to her. She recalled how passionate he was as he provided a lot of references to work with. The constant exchange between the two led to a satisfactory end result and, thanks to this cover art, many more projects to come. 
4. CHSVERYHIGH* – Angelvilla
Her first album art for a Korean artist. Every song of the album was recorded in Bali so Dohee wanted the cover to resemble the beach and tropical vibes of Bali. The band requested a lizard to be featured in the cover so it was placed on the palm tree, all of this placed before the warm tones of summer skies. 
5. Romain Fx – Le Sucre d'Adam
Our final record was Dohee's first house music album that she worked on. This project was something new for her since her previous works were for jazz, psychedelic rock or rock albums. Her vintage approach was adapted to fit the energetic and dance-inducing vibes of house music. This project became one of her more modern works that hinted at a touch of darkness. As per usual, the artist and label, who reside in France, fell in love with the results. 
"I guess I'm pretty good at it." (laughs)